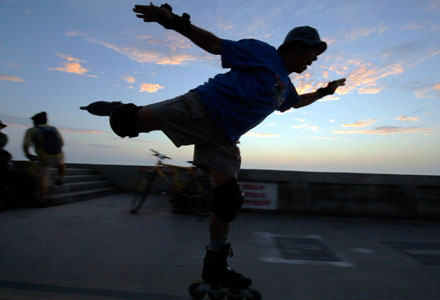 1 Reel Film Festival Preview 2013
August 30, 2013
Join us for our free 1 Reel preview before Bumbershoot kicks-off, featuring some the best in short film from around the world!
---
Films
Walking the Dogs
d: Jeremey Brock United Kingdom 2012, 27 min
A Buckingham Palace guard takes the Queen's corgis out for a walk and while he's away an intruder breaks in for a chat with the monarch.
A Girl Named Elastika
d: Guillaume Blanchet Canada 2012, 3 min
A spirited girl made of rubber bands journeys across her corkboard universe in this delightful stop-motion film.
SLOMO
d: Josh Izenberg USA 2013, 16 min
Depressed and frustrated with his life, Dr. John Kitchin abandons his career as a neurologist and moves to Pacific Beach. There, he undergoes a radical transformation into SLOMO, trading his lab coat for a pair of rollerblades and his IRA for a taste of divinity.
Irish Folk Furniture
d: Tony Donoghue Ireland 2012, 9 min
In this animated documentary, 16 pieces of abandoned folk furniture are restored and brought to life.
Ellen is Leaving
d: Michelle Savill New Zealand 2012, 15 min
Ellen is leaving to travel the world, but there is one more thing she must take care of before she leaves: finding a new girl for her boyfriend.
Momentum
d: Boris Seewald Germany 2013, 7 min
For some it is just an ordinary party snack, but for Patrick, a tortilla chip started a moment of self-discovery. With exuberant dancing and magical passion he shares his inspiration and invites every one to participate. Even his mother.