Browse All Films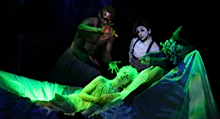 June 24
USA | 2014 | 148 Minutes | Julie Taymor
This heralded production of Shakespeare's classic comes from acclaimed director Julie Taymor (Frida, Across the Universe, Broadway's "The Lion King") and was filmed before a live audience by cinematographer Rodrigo Prieto (Birdman, The Wolf of Wall Street) during performance at the Theatre For A New Audience in Brooklyn.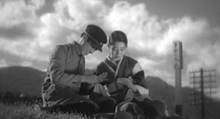 July 11
Japan | 1934 | 86 Minutes | Yasujirō Ozu
Aono Jikken Ensemble presents a new live music/sound score – a mixture of traditional Japanese music, experimental soundscapes, klezmer, and African folk influences – for master Japanese director Yasujiro Ozu's silent classic, the story of a down-on-its-luck Kabuki troupe putting on a performance in a small town. Presented with live bilingual Benshi narration, a Japanese silent film tradition.