Browse All Films
Browse Gregory Doran
June 16 - 28, 2014
United Kingdom | 2014 | 185 Minutes | Gregory Doran
Richard II is dead. Henry IV is King. But England is not at peace. RSC Artistic Director Gregory Doran returns with the second play in Shakespeare's regal tetralogy, a thrilling, epic vision of a nation in turmoil.
July 18 - 24, 2014
United Kingdom | 2014 | 185 Minutes | Gregory Doran
"Uneasy lies the head that wears a crown." As the King's health continues to worsen, Prince Hal must choose between duty and loyalty to an old friend in Shakespeare's heartbreaking conclusion to his epic history of Henry IV.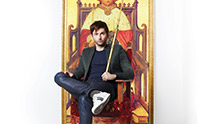 May 10 - 11, 2014
United Kingdom | 2013 | 195 Minutes | Gregory Doran
The Royal Shakespeare Company presents encore screenings of the recent hit performance of David Tennant ("Doctor Who") in the role as Shakespeare's troubled King Richard II.