Browse All Films
Browse Cult Movie
April 3 - 11, 2014
USA | 2013 | 85 Minutes | E.L. Katz
Actor Pat Healy in person! – Apr 3
A Midnight Adrenaline hit from SIFF 2013, this fiendishly black comedy follows a pair of friends at desparate ends who engage in a game of dares and degradation for financial reward, and find that it quickly escalates to outrageous and unnerving heights.
Thurs April 3 | Sneak Preview with star Pat Healy in person!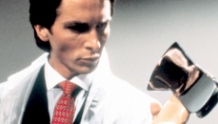 April 19
USA | 2000 | 102 Minutes | Mary Harron
Discussing the film American Psycho – Apr 19
Screenwriter Guinevere Turner joins us in person for a special Film Craft Commentary to discuss the intricacies of adapting Bret Easton Ellis' controversial novel "American Psycho" for the big screen.