Browse All Films
Browse Love...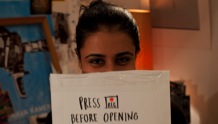 August 25
USA | 2013 | 73 Minutes | James E. Duff
In this charming romantic comedy, an Indian woman studying in Prague and a lonely New Yorker begin an unconventional correspondence through video letters – two strangers searching for human connection in a hyper-connected world.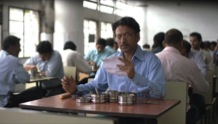 August 18, 2014
India | 2013 | 104 Minutes | Ritesh Bitra
In this tasty, subtle romance a Mumbai office worker (Irrfan Khan) is delivered the wrong lunch by a dabbawala, and finds a note from young housewife (Nimrat Kaur), leading to an unlikely correspondence that will change both of their lives.
October 11 - 15, 2014
United Kingdom | 2014 | Simon Goodwin
For the first time in 45 years, Shakespeare's exuberant romantic comedy returns to the Royal Shakespeare Theatre stage in a lively, modern version filled with music and color. This wry comment on friendship and love takes us from the controlled world of Italian high-society into the wildness of the forest where, it seems, anything can happen.