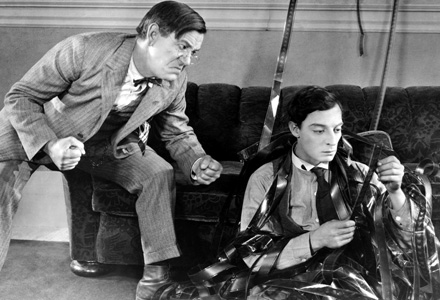 College
August 29, 2013
USA | 1927 | 66 minutes | James W. Horne, Buster Keaton
Buster Keaton goes back to school and stages a hilarious send-up of university life as an idealistic freshman who attends Clayton College in pursuit of higher learning, but finds himself instead embroiled in a war of athletics as he fights for the heart of his beloved coed, Mary.
Keaton stretches the boundaries of solo physical comedy in a series of unforgettable vignettes, where he tries his hand as a baseball player, soda jerk, waiter, coxswain, and track star, performing each task with a steady determination but with consistently disastrous results.
Screens with:
Sherlock Jr.
US| 1924 | 45 min
Director: Buster Keaton
Cast: Buster Keaton, Kathryn McGuire, Joe Keaton, Erwin Connelly, Ward Crane
Widely regarded as one of the most visually inventive silent comedies ever made, Sherlock Jr. offers fast-paced slapstick as well as a brilliant deconstruction of the filmmaking process. Keaton stars as a movie theatre projectionist who dreams of becoming a super-sleuth and, in one breathtaking sequence, literally steps into the screen to bring his fantasies to life.
Director:
James W. Horne, Buster Keaton
Principal Cast:
Buster Keaton, Anne Cornwall, Harold Goodwin
Country:
USA
Year:
1927
Running Time:
66 minutes