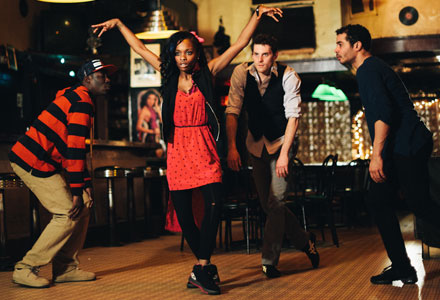 Dance, Dance, Dance
August 31, 2014
47 minutes
If you're not dancing now, you'll want to.
Packaged Films

Bookin'
d. John Kirkscey | USA | 19min.
Shot in Memphis, TN at the historic Earnestine & Hazel's dive bar, Bookin' documents the collaboration of two Memphis jookers' and two ballet dancers creating original choreography to a soundtrack that mixes hip-hop beats and cello.

ME - Story of a Performance
d. Jopsu Ramu | Finland, Japan, Estonia | 8min.
Through the interpretation of a different world - The Performance is created and we are all sucked into being a part of it.

Globe Trot
d. Mitchell Rose | USA | 5min.
An international crowd-sourced dance-film project, as 54 filmmakers on all seven continents each contribute two seconds of movement by renowned choreographer Bebe Miller.

Reflejos
d. Jordan Jay Colvard, Carla María Negrete Martinez, Alisa Chanelle Dickinson | USA | 5min.
People recognize their own struggles in each other and learn to get through it together.

Beneath our own Immensity
d. Alia Swersky | USA | 10min.
A site-specific dance film set in the urban underbelly of Seattle; it is a dark, lush journey through a gritty world lying mostly out of sight.