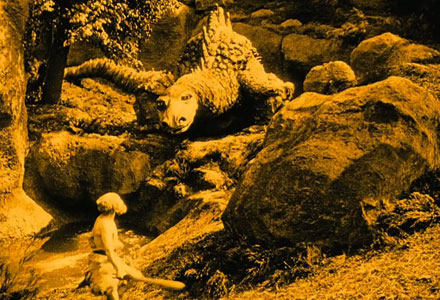 Die Nibelungen, Part 1: Seigfried
September 21 - 22, 2013
Germany | 1924 | 149 Minutes | Fritz Lang
Part one of Fritz Lang's nearly four hour epic introduces the hero Siegfried and an enchanted kingdom of dragons, trolls, and magic.
One of the greatest artistic and technical achievements of the German silent cinema, Fritz Lang's Die Nibelungen is a passionate retelling of 12th century epic poem "The Song of the Nibelungs". Scripted by Lang's wife Thea von Harbou (Metropolis), the film's stunning cinematography, still-impressive special effects, and lush production design make it one of the director's greatest films.
Part one of the tale establishes the larger-than-life heroic characters who are defined by tests of valor and rigid codes of honor, including the dragon-slayer Siegfried, whose travels take him from one jaw-dropping adventure to another. When he begins a torturous love affair with Kriemhild, the Princess of Brugundy, the ensuing love triangle with her warrior-princess sister-in-law Brünhild leads to tragedy.
---
Mastered in HD from the extensive 35mm restoration conducted by the Friedrich-Wilhelm-Murnau-Stiftung, completed in 2012.
Original musical score written by Gottfried Huppertz, performed by Frankfurt Radio Symphony Orchestra.
Director:
Fritz Lang
Principal Cast:
Paul Richter, Margerete Schon, Theodor Loos, Hans Adalbert Schlettow, Hanna Ralph, Rudolf Klein-Rogge, Georg John
Country:
Germany
Year:
1924
Running Time:
149 Minutes
Format:
HD Video
US Distributor:
Kino Lorber
Show All