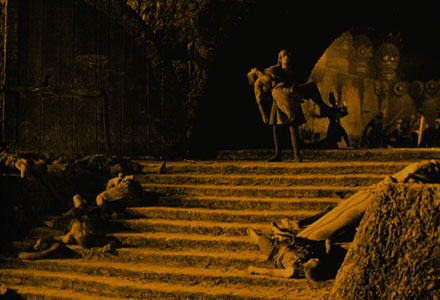 Die Nibelungen, Part 2: Kriemhild's Revenge
September 21 - 22, 2013
Germany | 1924 | 131 Minutes | Fritz Lang
Part two of Fritz Lang's epic is a nightmarish journey of ferocious and uncompromising vengeance featuring Attila the Hun and his marauding legions.
In the long-underrated second half of Die Nibelungen, Siegfried's beloved Kriemhild is consumed by hatred and enlists the aid of Attila the Hun and his marauding legions to tear apart her brother's kingdom until Siegfried's murderer is handed over to her.
What begins as a traditional revenge tale becomes emotionally charged with Lang's cynical attitudes toward vengeance and mob hysteria. As the film races towards it frightening climax, there is little to distinguish between the man who killed Siegfried and the woman who pits army against army and brings about the slaughter of her countrymen in the name of "justice."
---
Mastered in HD from the extensive 35mm restoration conducted by the Friedrich-Wilhelm-Murnau-Stiftung, completed in 2012.
Original musical score written by Gottfried Huppertz, performed by Frankfurt Radio Symphony Orchestra.
Director:
Fritz Lang
Principal Cast:
Paul Richter, Margerete Schon, Theodor Loos, Hans Adalbert Schlettow, Hanna Ralph, Rudolf Klein-Rogge, Georg John
Country:
Germany
Year:
1924
Running Time:
131 Minutes
Format:
HD Video
US Distributor:
Kino Lorber
Show All