New York Film Critics Series
This nation-wide premiere screening series not only gives you "first look" at some of the best new independent films, but also presents up close and personal discussions with major movie stars, producers, writers and directors.
Each New York Film Critics Series screening features Q&A's with filmmakers and actors recorded before a live audience in New York City and presented in an exclusive in-theatres-only broadcast. The program is moderated by film critic Peter Travers (Rolling Stone Magazine, ABC-TV, Newsweek, CNN) with additional guest critics as announced, and will take place once a month on a weeknight (dates vary each month based on film and talent availability).
Past Series highlights have included such prestigious films as Beasts of the Southern Wild, Silver Linings Playbook, Up in the Air, Black Swan, and appearances by guests Woody Harrelson, Frank Langella, Edward Norton, Paul Giammati, Ellen Page, Alan Arkin, and John Turturro.
---
Special Presentation
$15 | $10 Members
SIFF Passes, Vouchers, and other discounts are not valid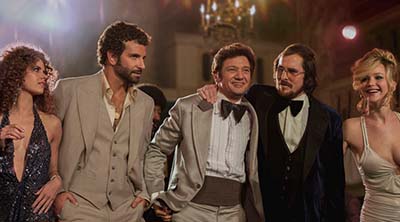 December 9
With HD broadcast of Q&A with director David O. Russell
USA | 2013 | 129 Minutes
The New York Film Critics Series presents this season's highly anticipated new crime drama, followed by a special HD broadcast of the Q&A with director David O. Russell.