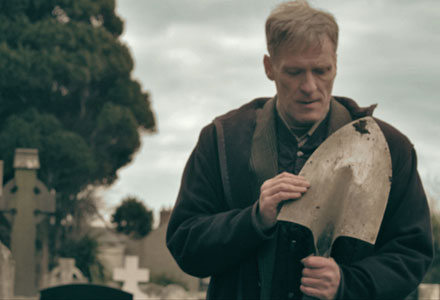 Films4Adults 1
August 30, 2014
84 minutes
Unsettling, bizarre, occasionally just an adventure. Not for the whole family, some adult content.
Packaged Films

The Missing Scarf
d. Eoin Duffy | Ireland | 7min.
Albert the squirrel searches for his missing scarf only to explore some of life's most common fears.

Pieces
d. Jack Weatherley | United Kingdom | 15min.
An unspoken incident unravels the lives of two families into nightmare, fracturing time and memory.

This Way Out
d. Staten Cousins-Roe | United Kingdom | 18min.
A pitch-black comedy about the oddball owner of a euthanasia centre, her hapless assistant, and their desperate attempts to keep the centre from closing.

The Gunfighter
d. Eric Kissack | USA | 9min.
A gunslinger walks into a bar, looking for a drink. What he finds instead is a building full of raunchy people, and an audible, bloodthirsty narrator.

The Gravedigger's Tour
d. Stephen Ryan | Ireland | 14min.
A Gravedigger struggles as time honored traditions of his beloved trade die away.

How to Deal with an Axe Murderer
d. Adam Estey | Canada | 13min.
A short instructional film that just might save your life ... please take notes.

The Silly Bastard Next to the Bed
d. Scott Calonico | USA | 8min.
JFK handles a scandal over some pricey bedroom furniture in the last summer of his presidency.