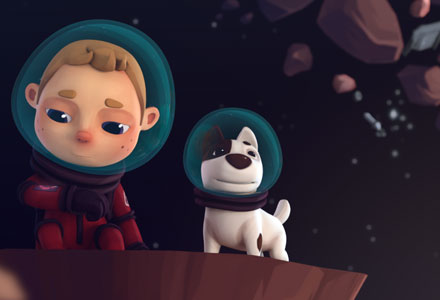 Films4Families 1
August 30, 2014
47 minutes
Films appropriate for kids and adults alike.
Packaged Films

The Dam Keeper
d. Dice Tsutsumi, Robert Kondo | USA | 18min.
The tale of a young pig with an important job and a new classmate that changes everything.

Cootie Contagion
d. Josh Smooha | USA | 8min.
Cootie Outbreak! Matt likes Becca but he is warned by his friends that going to her birthday party may mean certain doom for all boy-kind.

The Magic Ferret
d. Alison Parker | Canada | 12min.
Young Sam yearns to find a forever home, so he and his pet ferret Booger conjure up a little magic.

Little Big Hero
d. Nirali Somaia | Australia | 6min.
Fettuccine is an irritable donkey who enjoys solitude. However, his life is turned upside down when toddler Scout enters the scene.

Spacebound
d. Kyle Moy, Ellen Su | USA | 3min.
A young astronaut and his dog embark on one last adventure together.