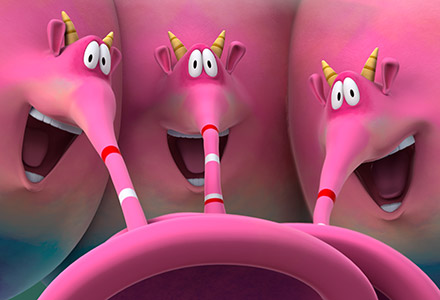 Films4Families 2
August 31, 2014
49 minutes
Films appropriate for kids and adults alike.
Packaged Films

A Tropical Sunday
d. Fabián Ribezzo | Mozambique, Italy | 15min.
Lisa, Babu, Gito, and Nuno live on the streets of Maputo. On Sundays they spend their time at the Funfair, looking for a chance to jump on a ride.

Vivos
d. Adrian Bohm | Argentina | 5min.
The passengers of a mysterious train, about to get on a journey with unknown destination, show their true selves once and for all.

The Smortlybacks
d. Ted Sieger, Wouter Dierickx | Switzerland | 6min.
On a tabletop mountain a mahout and his strange herd make a surprising and never-ending journey.

Monkey Rag
d. Joanna Davidovich | USA, United Kingdom | 4min.
Bounce along with this animated romp set to the rollicking Asylum Street Spankers tune.

Mia
d. Wouter Bongaerts | Belgium | 9min.
This rich, colorful animated short follows a young girl trying to free her mother from the workaholic nature of a bustling and overwhelming metropolis.

Gold
d. Marylou Mao | France | 3min.
A little girl discovers a new world through an unexpected encounter.

My Mom is an Airplane
d. Yulia Aronova | Russia | 7min.
A young boy imagines his mother to be an airplane who travels to exotic lands.