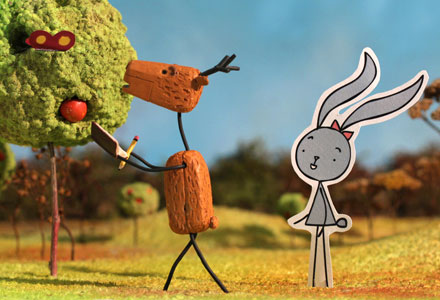 Films4Families 3
September 1, 2014
50 minutes
Films appropriate for kids and adults alike.
Packaged Films

Rabbit and Deer
d. Peter Vacz | Hungary | 17min.
The friendship of Rabbit and Deer is put to the test by Deer's new obsession to find the formula for the 3rd dimension.

The Numberlys
d. William Joyce, Brandon Oldenburg | USA | 12min.
Friends 1, 2, 3, 4 and 5 live in a world where there is no alphabet - only numbers. One day, they decide they want something different and set out to create each letter of the alphabet with color, creativity...and jellybeans.

Gnarly in Pink
d. Kristelle Laroche, Ben Mullinkosson | USA | 9min.
Pink tutus. Pink helmets. Pink skateboards. Skateboarding is not just for boys.

Practice Makes Perfect
d. Devon Avery | USA | 3min.
When is a kiss more than a kiss? ... When it's your first kiss.

Tamara
d. Jason Marino, Craig Kitzmann | USA | 5min.
A music box unlocks a little girl's passion for dance no matter the odds.

Forward, March!
d. Pierrick Barbin, Rimelle Khayat, Loic Le Goff, Guillaume Lenoel, Garrick Rawlingson | France | 4min.
A group of London Guards are headed for high-flying hijinks when an unexpected member joins their band.