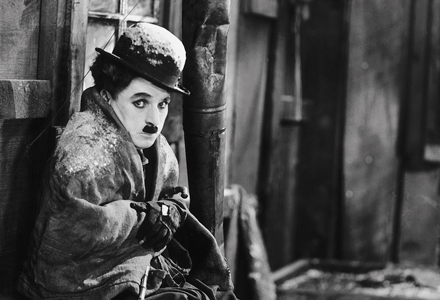 The Gold Rush
August 23 - 25, 2013
USA | 1925 | 88 minutes | Charlie Chaplin
New 2K restoration! One of the great masterpieces of silent cinema returns in a crisp new version of the original 1925 silent version, complete with newly recorded orchestral score.
In search of gold in turn-of-the-century Alaska, Charlie takes refuge in an isolated, comically-imbalanced cabin, where hunger forces him to eat that famous shoe. Moving, hilarious, and full of invention, the original version of the film has long been unavailable following Chaplin's 1942 "sound version". Newly restored, and featuring a new 5.1 Dolby Digital recording of Chaplin's score, reconstructed and conducted by Timothy Brock, The Gold Rush has never looked—or sounded—better.
Restoration produced in collaboration with the Cineteca Bologna, the Chaplin Estate, and Janus Films.
Director:
Charlie Chaplin
Principal Cast:
Charlie Chaplin, Mack Swain, Tom Murray
Country:
USA
Year:
1925
Running Time:
88 minutes