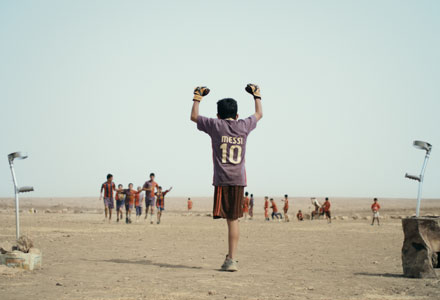 Make Me Laugh
September 1, 2014
54 minutes
Packaged Films

Ike Interviews God
d. Eli Shapiro | USA | 9min.
Regular Ike must convince God not to destroy the world.

Baghdad Messi
d. Sahim Omar Kalifa | Belgium, UAE | 18min.
Young Iraqi sports fan Hamoudi will do anything to watch the Champions League Final - even if it means finding a way to fix his television set.

Your Mother's Maiden Name
d. Joe Ahern | USA | 4min.
Pete calls his bank and endures the hardship of customer service that we all know all too well.

Salomea's Nose
d. Susan Korda | Germany, USA | 23min.
Salomea remembers the day her beloved brothers, Max and Karl, disfigured her and themselves for life, The Day of Tragedy according to her mother. A tragicomedy about sibling rivalry, disfigurement and that which binds us.