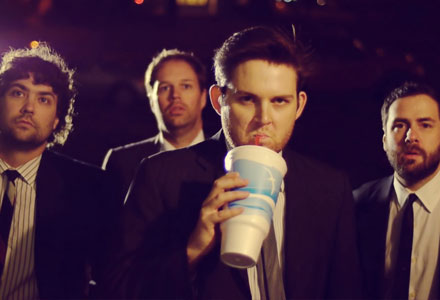 The Memphis Sound
September 1, 2014
48 minutes
From Electraphonic to Aristocrunk, The Memphis Sound is an overview of recent Mid-South flavor curated by a Memphis native.
Packaged Films

The Bo-Keys: Making of The Electraphonic Singles Series
d. Nathan Black | USA | 9min.
Producer Scott Bomar introduces the current line-up of the Bo-Keys and their most recent project from his Electraphonic Recording studio.

60 Seconds with the City Champs
d. Christopher Reyes | USA | 1min.
The City Champs have 60 seconds to share the biz.

Fast Planet - "Lost"
d. Matt Weatherly | USA | 5min.
The band picks a fight with an imposing foe.

The Grifters - "Bummer"
d. Edward Valibus | USA | 3min.
In honor of the 20th Anniversary release of One Sock Missing, everyone is bored to death until an erratically invasive dance party causes a reawakening.

Tiger High - "Be the Indian"
d. Christopher Reyes | USA | 4min.
Psychedelic garage rockers Tiger High perform a recent single.

Jo'zzy - "Over and Out"
d. Femethics | USA | 3min.
Jo'zzy gets dopey.

Lord T & Eloise - "Wu Hui"
d. Christopher Reyes | USA | 3min.
Lord T & Eloise take a trip to China to spread the gospel of crunk.

The City Champs - "Shishido Jo"
e. Jonathan DePriest | USA | 5min.
A Japanese hitman is hired by the yakuza to eliminate a rival gang's boss.

Valerie June - "Workin' Woman Blues"
d. | USA | 4min.
Valerie works her hands to the bone amidst men at rest.

Amy Lavere - "Rabbit"
d. Melissa Sweazy | USA | 4min.
A young girl longs to return home after running away.

Mark Edgar Stuart - "Remote Control"
d. Adam Woodard | USA | 4min.
Mark honors his late father with memories of a simpler time.

Myla Smith - "Can't Say No"
d. Brad Ellis | USA | 3min.
A fast food employee is frustrated with the working life until she experiences a change in perspective.