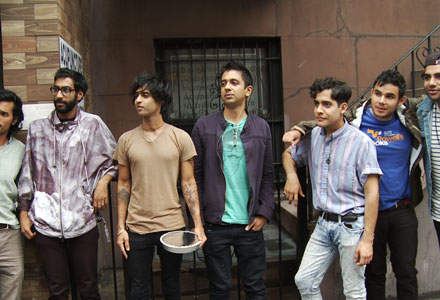 Films4Adults - Neither Here nor There
Sunday, September 1, 8:00pm | SIFF Film Center
Unsettling, bizarre, occasionally just an adventure. Not for the whole family, some adult content.
Presence Required
d: Maria Gordillon Spain 2012, 12 min
A Brooklyn couple freaks out when they find out that the ghost that has haunter their home for years has left without notice.
No Beers for Bradley
d: Julian Doan USA 2012, 10 min
No Beers for Bradley is the darkest kind of bedtime story; A young boy, ridden with terminal illness, can't sleep. To help him go to bed, his older brother tells him the story of Bradley, a slacker on a quest to drink his bad day away.
Dosa Hunt
a film by: Amrit Singh USA 2013, 22 min
Stars the guys from Vampire Weekend, Das Racist, Yeasayer, Neon Indian, Stereogum, and the Vijay Iyer Trio as they prowl Manhattan and Queens looking for the best dosa (a South Indian crepe) in an Indian disco. It's about the food, but the food becomes the device via which we talk about stuff like culture, art, family, and being brown.
Five Years
d: Durier Ryan USA 2012, 14 min
On the first day of his probation sentence, Will gets a desperate call from a friend in crisis.
Magma
d: Pawel Masiona Poland 2013, 30 min
What would you like to change in your life? I dunno, maybe... carpet in the living room.