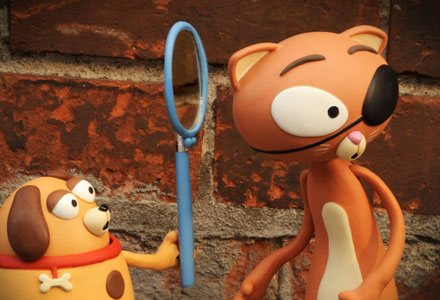 Films4Families 1
Saturday, August 31, 12:00pm | SIFF Film Center
Films appropriate for kids and adults alike.
The Collector's Gift
d: Ryan Kravetz USA 2012, 9 min
A modern day fairytale about a young girl who discovers the key to creating a new world.
Sweetly Broken
d: Chung Lam Czech Republic/USA 2012, 6 min
When a boy puppet is separated from the girl puppet he loves he will go to any length to reunite with her.
Uski Baarish
d: Archana Phadke India 2012, 5 min
An Indian boy makes his younger sister the red umbrella she has always wanted.
The Window
d: Camille Müller Switzerland 2012, 5 min
Two dragon-loving kids find their own fairy tale romance.
Fox and the Chickadee
d: Evan DeRushie Canada 2012, 8 min
A charming stop-motion animated fable about a starving fox and a cunning chickadee, who find themselves trapped in a standoff.
Macropolis
d: Joel Simon United Kingdom 2012, 7 min
A pair of rejected toys struggle to find a place in the store display.