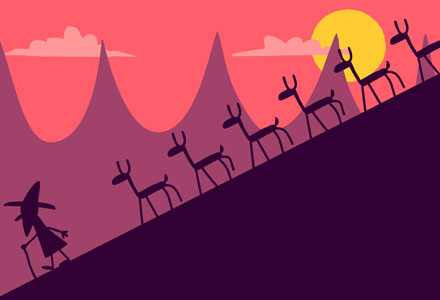 Films4Families 2
Sunday, September 1, 12:00pm | SIFF Film Center
Films appropriate for kids and adults alike.
Snap
d: Thomas G. Murphy, Hilere Beligum 2012, 6 min
When one underwater critter has trouble catching dinner he turns everyone's world upside down after he learns some tricks from a frog.
The Mole at the Sea
d: Anna Kadykova Russia 2012, 5 min
Everyone is off to the sea and the Mole travels as well to find out what is so exciting.
Hedgehogs and the City
d: Evalds Lacis Latvia 2012, 10 min
The Hedgehogs and their animal friends learn to make money and use it to remodel the city.
Hannah and the Moon
d: Kate Charter United Kingdom 2012, 6 min
Hannah's mom is always busy so when the night comes Hannah talks to the moon, until one night when the moon doesn't appear.
The Goat Herder and His Lots and Lots and Lots of Goats
d: Will Rose United Kingdom 2012, 7 min
Beneath a fuchsia sky, a goat herder leads his flock of goats up and down the mountains of Spain.
Blue
d: Asia Lancaster, Katelyn Bianchini, Rena Cheng USA 2013, 8 min
A balloon's biggest fear is being popped.