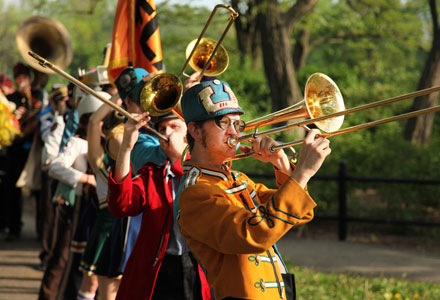 Music Video Madness
Saturday, August 31, 1:00pm | SIFF Film Center
Music to my ears, and pleasing to the eyes.
FANFARE for MARCHING BAND
d: Daniele Wilmouth USA 2012, 16 min
We follow the antics of a ragtag musical militia, as they embark on an inept invasion through a parallel universe where their exuberant music is out of sync and unheard.
Upon Your Shoulders
d: Ben Rapson USA 2012, 6 min
In this silent narrative set to Eric Whitacre's choral masterpiece, 'Sleep', a married man discovers he's going to be a father.
I Fink U Freeky
d: Roger Ballen, Ninja South Africa 2012, 4 min
I Fink U Freeky is a music video which features a collaboration between Die Antwoord and Roger Ballen. Die Antwoord describe themselves as a 'fresh, futuristic, flame-throw-flow-freeking zef rap rave krew from the dark dangerous depths of Afrika.
Listen Up (If the World is Going to Hell)
d: Nicholas Junke USA 2011, 4 min
Shot at the Fred Wildlife Refuge in Seattle, WA, Red Jacket Mine's music video presents a surreal vision of a world that has literally gone to hell.
Killer Mike - Reagan
d: Harry Teitelman, Daniel Garcia USA 2012, 5 min
A darkly animated accompaniment to the rapper's tirade against political corruption and media debauchery, complete with killer robot and caricatures of recent presidents.
Dog Is Dead - Teenage Daughter
d: Jordan Bahat USA 2012, 4 min
A music video that uses light to its advantage for Atlantic Records' Dog is Dead.
Kithkin - Fallen Giants
d: Ben Anderson, Sawyer Purman USA 2013, 5 min
A music video adventure into the forest where Kithkin meets the dragon.