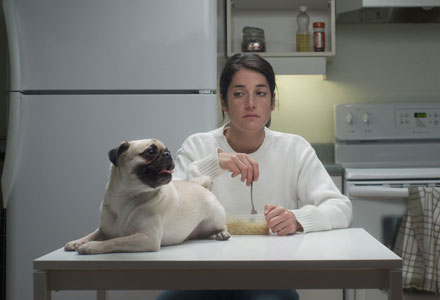 Zoology
Monday, September 2, 2:00pm | SIFF Film Center
An hour to catch up with some of our favorite pets and animal friends.
Herd Leader
d: Chloé Rochibaud Canada 2012, 13 min
Following her aunt's death, Clara is put in charge of her pet. Little does she know that these are the first steps to an unlikely, but empowering, friendship.
Seattle Internet Cat Video Favorites
d: Various USA 2013, 7 min
It's no secret that cats control "Teh Internets", and this musical tribute to online felines will make you LOL and squee at the same time.
They Look Right Through You
d: Tess Martin USA 2013, 10 min
Whether a cat person or a dog person, you probably think you have some kind of relationship with your pet. But does your pet feel the same way?
Palmipedarium
d: Jérémy Clapin France 2012, 10 min
Simon knows ducks quite well, but sometimes it's a bit confusing.
The Hunter
d: Marieka Walsh Australia 2012, 7 min
A lone hunter undertakes a search for a missing boy deep in the snow-covered mountains.