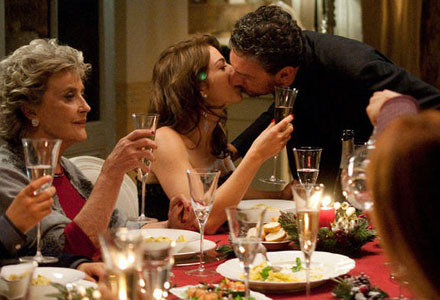 A Perfect Family
Una famiglia perfetta
November 20, 2013
Italy | 2013 | 120 minutes | Paolo Genovese
Paolo Genovese (Immature, 2011) returns with another stellar ensemble cast and a quirky, amusing look at one man's desire to create the ideal family, by simply hiring them.
Film: $11 | $6 Members
Festival Pass: $100 | $75 Members (includes Opening and Closing Night parties)
Click here to purchase the Cinema Italian Style Pass.
---
Leone (Sergio Castellitto) is a very wealthy, very lonely man. He makes the decision to create a family Christmas by writing a script and hiring professional actors to play different family members. The comedian Fortunato (Mark Giallini), his wife Carmen (Claudia Gerini), the old Rosa (Ilaria Occhini) and young Sun (Carolina Crescentini), Moon (Eugenia Costantini) and Peter (Eugenio Franceschini), are the cast of the ramshackle company who, when in the presence of Leone, play their parts. However, when alone they become themselves again, expressing their own thoughts and feelings about their real lives and this absurd project which they have agreed to participate in. It is not an easy task, with Leone's constant mood-swings disturbing his own script and forcing the actors to improvise. To complicate things further, he threatens to not pay if proceedings do not develop in an acceptable way. The unexpected arrival of Alicia (Francesca Blacks) causes a serious disruption, throwing the script into a disorder that will ultimately make or break the strange family unit.
Director:
Paolo Genovese
Principal Cast:
Sergio Castellitto, Marco Giallini, Claudia Gerini, Carolina Crescentini
Country:
Italy
Year:
2013
Running Time:
120 minutes
Producer:
Marco Belardi
Cinematographers:
Fabrizio Lucci
Editors:
Consuelo Catucci
Production Designer:
Chiara Balducci
Music:
Emanuele Bossi
Filmography:
David de Donatello 2013 (David of the Youth Award, Best Actor)
Language:
Italian
HasSubTitles:
Yes
International Sales:
Lotus Productions
Show All