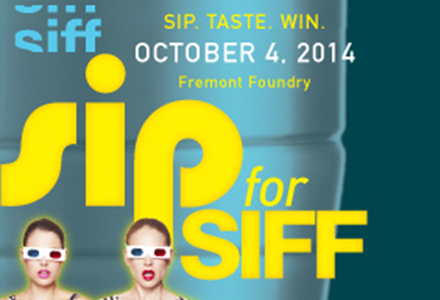 SIP for SIFF
October 4, 2014
What do you get when you combine fabulous auction items, wines from Washington's top vintners, delicacies from the city's best chefs, spirits from Seattle's hometown distilleries, and the most exclusive party in town at Fremont Foundry with KEXP's DJ Darek Mazzone?
Sip for SIFF.
Sip. Taste. Win.
7:00pm - 10:00pm
Fremont Foundry
$175 per person
All proceeds benefit SIFF
---
Photo Gallery
Click here for photos taken during Sip for SIFF 2014! Use the code sipwithus to unlock the gallery.
---
Auction Spotlight
Download the Auction Catalog here.
NEW! Palm Springs Presidential Package. This getaway includes a five nights stay for up to six guests in a stunning mid-century modern home in Deepwell. Your stay includes meals at Cheekys, Greek Islands Restaurant, Workshop Kitchen + Bar, and Spencer's; pampering at Psyc Spa at the Parker Palm Springs; and a tram sky tour.
NEW! Maserati Weekend Getaway. Take to the open road with your very own Maserati for the weekend! Maserati of Seattle will hand over the keys to the newly launched Ghibli for one weekend for the winner to experience Maserati's four hundred horsepower. The weekend is coupled with stay at Hood Canal's Alderbrook Resort & Spa, featuring incredible dining and luxurious spa amenities.
NEW! Luxurious Ten-Day Cruise for Two. When you step aboard one of the five-star ships of Holland America Line, you will experience a voyage unlike any other. You can choose any cruise for two for up to ten days in length to a variety of destinations. Your journey will include extraordinary dining, spacious staterooms, elegant surroundings and days filled with new discoveries and gracious pampering.
NEW! Premiere Preview Screener. This lucky auction winner will be added to Allied's VIP Movie Lover E-mailing list which offers priority RSVP, entry, and seating for you and a guest at 50 plus preview screenings a year!




Ultimate SIFF Cinema Experience. Enjoy the most intimate of SIFF Cinema experiences at a private screening for up to 100 of your friends in the SIFF Film Center theater. This once-in-a-lifetime opportunity is a chance to enjoy one of your favorite flicks on the big screen. This package is perfect for a birthday celebration, special anniversary, or benefit event, and includes popcorn, soft drinks, and candies!
Escape to France. Bask in the sunshine and idyllic beauty of Southwestern France when you spend a week in this charming, fully-equipped French cottage that sleeps up to four guests. Set in the Dordogne region, the house offers easy access to nearly 50 castles, restaurants and markets, and to the Dordogne River. Your Escape to France includes two, round-trip BusinessElite airfare from Delta Air Lines, Inc.
Experience Perugia. Enjoy seven nights in the heart of Perugia, Italy. Your apartment sleeps six and is within minutes distance of restaurants, shops, museums, historic buildings, and scenic walking tours. Prepare for your Italian getaway with a two-hour Italian Lesson at Percorso Italiano and then jet off in style with round-trip BusinessElite airfare for two from Delta.
Travel Like a Rock Star. Your Alaska MVP Gold status includes unlimited complimentary upgrades to first class for you and a companion, 100% Bonus Miles every time you fly, baggage fee waived for first two checked bags on Alaska, Horizon and Delta, priority boarding on Alaska, Horizon and Delta, top priority for stand-by status, first class check-in privileges, and access to the VIP Lounge.
---
The Restaurants
Aqua by El Gaucho
Collections Cafe
Lark
Matt's In The Market
Mistral-Kitchen
The Space Needle
Volterra

---
The Wineries
Billy O Wines
Cadence Winery
Dunham Cellars
O Wines
Sparkman Cellars

---
The Distilleries
Glass Vodka
Skip Rock Distillers
Westland Distillery
---
The Desserts
---
Meet our DJ
Darek Mazzone was born behind the Iron Curtain, in occupied Poland. When he moved to the Dorchester neighborhood of Boston at the age of nine, he spoke no English. His African-American friends in Dorchester introduced Darek to hip-hop. He became seriously interested in music while he was in High School, and soon started volunteering at the freeform radio station WMFO, where he produced RIBS Rhythms in Black Satin, a hip-hop program that broke many acts in the Northeast.
After moving to Seattle in 1992, Darek took over as the host of Wo-Pop at KCMU, and began to focus on international music, especially international hip-hop. This new interest led to a career as a club DJ that began in 1994. Since then, Darek has shared the marquis with international luminaries from Las Vegas to Barcelona, including Grandmaster Flash, Questlove, Childish Gambino, Kaskade, DJ Krush, Thievery Corporation, Z Trip, Pearl Jam, Richie Hawtin, Kruder and Dorfmeister, Kid Koala and many more.
Darek was a member of Straw Man, a late 90's experimental band that featured turntables, theremin, voice and drums. He was also the turntablist for La Movida, a Latin band that included multi-instrumentalist Amy Denio and the renowned drummer, Elizabeth Pupo-Walker.
Darek continues to share his passion for Modern Global Music through his work as a DJ for clubs and events, and at KEXP, where he has hosted Wo-Pop for twenty years, with no end in sight.
---