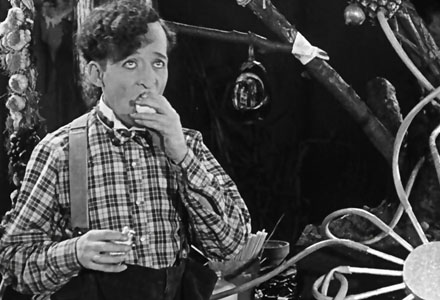 Slapstick Shorts: Chase & Bowers
August 24 - 25, 2013
85 minutes
Rarely seen slapstick short films in newly restored digital transfers featuring Chaplin, Keaton, Hal Roach legend Charlie Chase, and the wonderfully inventive Charlie Bowers.
A former animator, Charley Bowers was one of the most creative and inventive comedians of the silent era, and his wild and surreal gag-fest Now You Tell One (1926) is a rare treat not to be missed. In The Immigrant (1917) Charlie Chaplin's "Little Tramp" tries to adjust to life in the US. Buster Keaton's The Love Nest (1923) is his last silent two-reel comedy, and the only one where he was given sole credit as director and writer. And silent era star Charlie Chase appears in his greatest short Mighty Like a Moose (1926), about a married couple who no longer recognize each other after plastic surgery.
Presented from the collections of Serge Bromberg, Lobster Films and David Shepard in new digital transfers.