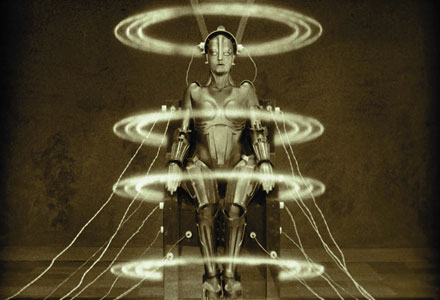 The Complete Metropolis
September 20 - 22, 2013
Germany | 1927 | 148 Minutes | Fritz Lang
Fritz Lang's futuristic masterpiece returns with 25 minutes of recently rediscovered new footage, the most complete version yet of the original 1927 premiere cut.
Set in 2026, when the populace is divided between workers who must live in the dark underground and the rich who enjoy a futuristic city of splendor, Metropolis is gorgeously spectacular. With elaborate sets and modern science fiction style, it stands today as the crowning achievement of the German silent cinema.
When Fritz Lang's masterpiece debuted in Berlin in January 1927, the futurist epic ran an estimated 153 minutes. In order to maximize box office potential, distributors cut the film to 90 minutes and for decades crucial scenes from the film were considered lost. In 2001 a longer version was comprised from archive prints, and in 2008 a negative of the film was discovered that was considerably longer than any existing print. That discovery led to this remarkable restoration and Metropolis can now be seen in Fritz Lang's original, complete version.
---
Musical score written by Gottfried Huppertz, performed by the Rundfunk-Sinfonieorchester Berlin, conducted by Frank Strobel.
Director:
Fritz Lang
Principal Cast:
Alfred Abel, Brigitte Helm, Gustav Fröhlich, Rudolf Klein-Rogge
Country:
Germany
Year:
1927
Running Time:
148 Minutes
Format:
DCP
US Distributor:
Kino Lorber
Show All