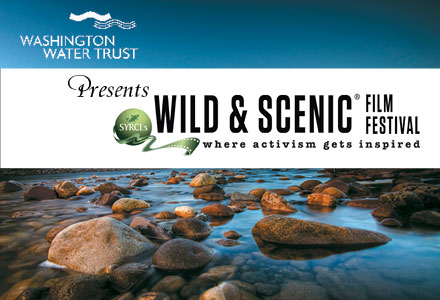 Wild & Scenic Film Festival
April 24, 2014
Presented by Washington Water Trust. Prepare to be amazed, motivated, inspired and wowed by this collection of environmental and adventure films celebrating the natural and wild world.
Tickets: $15
SIFF Cinema passes, vouchers, and other discounts are not valid for this special engagement.
Adults will receive a complimentary beer/wine during happy hour and a raffle ticket with each festival ticket purchase. Proceeds from this event will support the work of Washington Water Trust, a 501c3 nonprofit. To learn more about Washington Water Trust please visit www.washingtonwatertrust.org.
Come Experience the Wild and Scenic!
5:00 pm - Happy Hour
6:00 pm - First Session
7:15 pm - Intermission & Raffle
7:40 pm - Second Session
---
Featured Movies
The full listing of films presented in the Wild & Scenic Film Festival, including trailers, is available at www.washingtonwatertrust.org.
Momenta
Andy Miller, Robin Moore, Jeremy Jones, Chris Steinkamp, Ed Lewis, Eric Wallis
USA | 2014 | 40 min.
This is a story about the west, known for its forward-thinking innovation, being caught in the crosshairs of an American paradox—old innovation vs. new.
---
The Strong People
Heather Hoglund | 2013 | 35 min. | USA
The Strong People chronicles the largest dam removal in U.S. history and its effects on the Lower Elwha Klallam Tribe of Washington State.
---
SLOMO
Josh Izenberg, Amanda Micheli | 2013 | 16 min. | USA
Depressed and frustrated with his life, Dr. John Kitchin abandons his career as a neurologist and moves to Pacific Beach. There, he undergoes a radical transformation into SLOMO, trading his lab coat for a pair of rollerblades and his IRA for a taste of divinity.
---
My First Fish
Ben Galland | 2013 | 7 min. | USA
A story about a boy's first experience going steelhead fishing with his father on the Trinity River in Northern California.