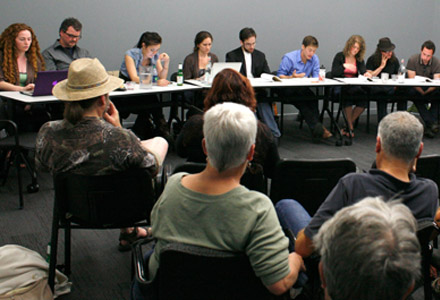 First Draft
December 12
The First Draft screenplay series gives local writers an exciting chance to stage readings of their work with professional actors, a live audience, and feedback from industry insiders. December 12 will feature "The First Ten Pages" - a deep dive into the first ten pages of four unproduced scripts and discover what makes them tick. You'll have an opportunity to weigh in on character introductions, story world, what works, what doesn't, and how it can be improved.




Admission
$5 | Free for SIFF Members
---
First Draft takes place on Thursdays from 6:30pm to 9:30pm.
December's First Draft will feature what we are calling "The First Ten Pages" - Join us for this new approach to the event and give your input on a script that you may one day see on the big screen. This event will feature the first ten pages of four unproduced scripts. Please be part of this inspiring process and help us forge the way for more writers to share their work with Seattle film-loving audiences.
First Draft is part of the SIFF Education Catalyst program. Catalyst programs are designed to support filmmakers in getting to the next stage of their careers - artistically and professionally. First Draft offers audience members a glimpse into the first stage of the filmmaking process. Film fans have the opportunity, along with industry professionals, to offer immediate and constructive feedback. The SIFF audience is savvy and includes writers, actors, filmmakers as well as film lovers. Come join us for First Draft where the audience takes the script from good to great. Each event includes a networking reception with beer provided by Naked City Brewery.
---
Please contact us for more information about participating.