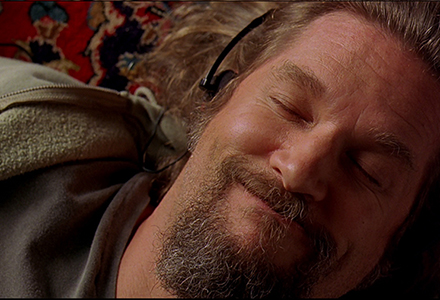 The Big Lebowski with Jim Emerson
September 20, 2014
The Big Lebowski goes under the analytical knife with a six-hour audience-fueled examination of what makes this film extraordinary. Join guest facilitator and film critic Jim Emerson as we work together scene-by-scene and often shot-by-shot through the symbolism, homage, and genius of the Coen Brothers cult masterpiece.
A beloved cult favorite, The Big Lebowski is one of the Coen Brothers most popular films. On the surface that may be easy to see, but beneath it's super cool veneer there is exquisite craftsmanship waiting to be unearthed. This is much more than just a passive film viewing or lecture. The audience is participatory in the dissection and able to stop the film at any time to make an observation about the film or ask a question of the other participants.
Note: Participants are recommended to have seen The Big Lebowski in advance of the session. We will not be screening the film in it's entirety before the dissection begins.
About Jim Emerson:
Jim Emerson has done lots of motion-picture-related stuff in Seattle, Los Angeles, Chicago, New York, online and elsewhere. He was the founding editor-in-chief of RogerEbert.com during Roger Ebert's lifetime, repeatedly co-hosted the Cinema Interruptus with Ebert at the Conference on World Affairs, and later conducted the program himself. His film criticism (written, spoken, filmed) has appeared all over the place since 1977, in places like The Rocket, Seattle Times, OC Register, Chicago Sun-Times, Film Comment, and his influential websites, CinePad and Scanners. He programmed movies for the Market Theater, the Floating Film Festival and SIFF, where he was a co-director way back in the 1980s.
About Cinema Dissection:
Cinema Dissection affords film lovers an exciting opportunity to dig deeper into the films that they love. Inspired by Roger Ebert's annual Cinema Interruptus in Boulder, CO, attendees will participate with a facilitator in a six hour scene-by-scene, and sometimes shot-by-shot, deconstruction of the featured film. While the facilitator will certainly share their thoughts, anyone in the audience may call out 'Stop' and either ask a question of the group or make an observation around a certain shot or moment in the film.
Director:
Joel Coen
Principal Cast:
Jeff Bridges, John Goodman, Julianne Moore
Country:
USA
Year:
1998
Running Time:
360 minutes
Producer:
Ethan Coen
Screenplay:
Ethan Coen, Joel Coen
Cinematographers:
Roger Deakins
Editors:
Roderick Jaynes, Tricia Cooke
Production Designer:
Rick Heinrichs
Music:
Carter Burwell
Language:
English
Rating:
R
Show All