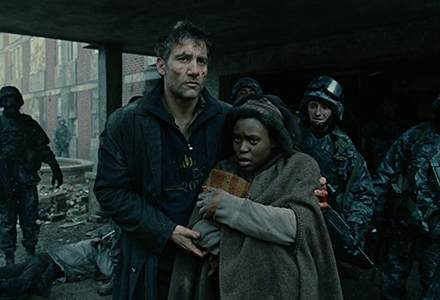 Children of Men with Georg Koszulinski
October 25, 2014
Alfonso Cuarón's Children of Men is well known as a contemporary intersection between emotional investment and technical precision. With guest facilitator and Seattle University film faculty member Georg Koszulinski leading this six hour session, the audience will work scene-by-scene through the film to unlock the creative choices that make the film a masterpiece.
The story of a civilization brought to the brink of extinction carries Clive Owen on a journey of extended takes, bold design choices, and masterful direction. It is easy to appreciate the luxurious length of Cuarón's shots, but when digging in deeper, why does this choice support the narrative of the film and what other creative choices are driving the emotional thrust of the narrative? Cinema Dissection is much more than just a passive film viewing or lecture. The audience is participatory in the dissection and able to stop the film at any time to make an observation or ask a question of the other participants.
Note: Participants are recommended to have seen Children of Men in advance of the session. We will not be screening the film in it's entirety before the dissection begins.
---
About our Facilitator
Georg Koszulinski is an assistant professor of Film Studies at Seattle University and a nationally recognized social justice documentarian. With nearly forty films and videos to his credits, Koszulinski has presented his work at hundreds of colleges, universities, and film festivals around the world. The first two films in his Florida trilogy, Cracker Crazy: Invisible Histories of the Sunshine State and Immokalee U.S.A., were widely programmed, earning numerous film festival awards and a Notable Video of the Year nomination from the American Library Association in 2008. His experimental films and videos have screened at festivals and museums worldwide. Notable screening spaces include the Ann Arbor Film Festival, Anthology Film Archives, Dallas VideoFest 27, Harvard Film Archive, UK's National Media Museum, and the Images Festival in Toronto. Currently, he is in post-production on a documentary focusing on Vodou practices in rural Haiti.
About Cinema Dissection
Cinema Dissection affords film lovers an exciting opportunity to dig deeper into the films that they love. Inspired by Roger Ebert's annual Cinema Interruptus in Boulder, CO, attendees will participate with a facilitator in a six hour scene-by-scene, and sometimes shot-by-shot, deconstruction of the featured film. While the facilitator will certainly share their thoughts, anyone in the audience may call out 'Stop' and either ask a question of the group or make an observation around a certain shot or moment in the film.
Director:
Alfonso Cuarón
Principal Cast:
Clive Owen, Julianne Moore, Chiwetel Ejiofor, Michael Caine
Country:
USA, United Kingdom
Year:
2006
Running Time:
360 minutes
Producer:
Marc Abraham, Eric Newman, Hilary Shor, Iain Smith, Tony Smith
Screenplay:
Alfonso Cuarón, Timothy J. Sexton, David Arata, Mark Fergus, Hawk Ostby
Cinematographers:
Emmanuel Lubezki
Editors:
Alfonso Cuarón, Alex Rodríguez
Production Designer:
Jim Clay, Geoffrey Kirkland
Music:
John Tavener
Language:
English
Rating:
R
Show All