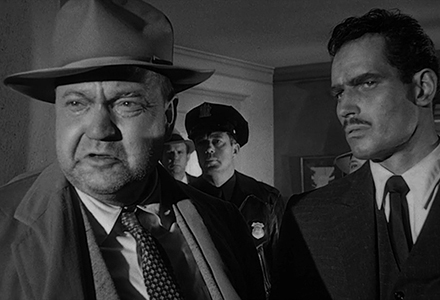 Touch of Evil with Sean Axmaker
November 15, 2014
Well known for its extraordinary opening, Touch of Evil is much more than just that initial tracking shot. Its rich cinematography, bold stylistic choices, and gritty story all coalesce to imagine a dark and atmospheric world of crime and corruption. Seattle film critic Sean Axmaker will facilitate this audience exploration with a six-hour dive into the pioneering mind of Orson Welles and his border town masterpiece.
Orson Welles dominates any film in which he is creatively involved. While Touch of Evil is certainly to be enjoyed for it's labyrinthine plot, Welles' innovation as a storyteller places the viewing experience on a much higher aesthetic level. This is much more than just a passive film viewing or lecture. The audience is participatory in the dissection and able to stop the film at any time to make an observation or ask a question of the other participants.
Note: Participants are recommended to have seen Touch of Evil in advance of the session. We will not be screening the film in it's entirety before the dissection begins.
About Sean Axmaker:
Sean Axmaker is a contributing writer for Today.com, Turner Classic Movies Online, Keyframe, and Cinephiled, and the managing editor of Parallax View. He was a film critic for the Seattle Post-Intelligencer for nine years and a longtime home video columnist for IMDb and MSN Movies, and his work has appeared in Indiewire, The Seattle Weekly, The Stranger, Senses of Cinema, and "The Scarecrow Video Guide." You can find links to all of this and more on his shamelessly self-promoting blog.
About Cinema Dissection:
Cinema Dissection affords film lovers an exciting opportunity to dig deeper into the films that they love. Inspired by Roger Ebert's annual Cinema Interruptus in Boulder, CO, attendees will participate with a facilitator in a six hour scene-by-scene, and sometimes shot-by-shot, deconstruction of the featured film. While the facilitator will certainly share their thoughts, anyone in the audience may call out 'Stop' and either ask a question of the group or make an observation around a certain shot or moment in the film.
Director:
Orson Welles
Principal Cast:
Charlton Heston, Orson Welles, Janet Leigh
Country:
USA
Year:
1958
Running Time:
360 minutes
Producer:
August Zugsmith
Screenplay:
Orson Welles
Cinematographers:
Russell Metty
Editors:
Aaron Stell, Virgil Vogel, Walter Murch (1998 re-edit)
Production Designer:
Robert Clatworthy, Alexander Golitzen
Music:
Henry Mancini
Language:
English
Rating:
PG-13
Show All