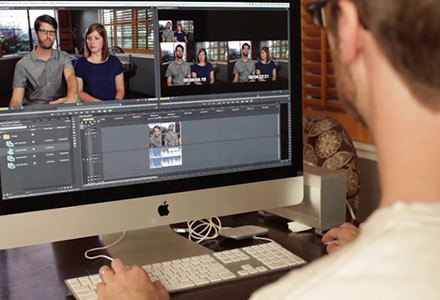 Editing with Eric Frith
March 26, 2014
Breaking down scenes from his work on Megan Griffith's searing drama Eden and Ward Serrill's documentary Heart of the Game, editor Eric Frith will illuminate the process of fine tuning the edit in feature films.
Film Craft Commentary is a monthly series devoted to deepening audience appreciation as professional film artists provide live audio commentary about their craft throughout a film of their choice.
Each session of Film Craft Commentary will begin with an introduction to the artist's craft and conclude with an opportunity to interact with the artist through questions and answers.
Eric Frith (editor, producer, director, writer) creates films that have screened at top film festivals including Sundance, Toronto International Film Festival (TIFF), South by Southwest (SXSW), Seattle International Film Festival (SIFF) and dozens of other festivals around the world. These projects have received numerous awards and been acquired for distribution, both nationally and internationally, by Miramax, Dream Entertainment, Cinema Management Group, Off the Fence, Independent Lens, American Masters PBS, and Phase 4 Films.

Most recently, Eric served as editor on the documentary Finding Hillywood which premiered at SIFF in 2013, screened at over 20 other film festivals winning two best doc awards and one audience award. He edited director Megan Griffiths' Eden (2012), which premiered at SXSW won the audience award there, along with 1st runner up for best film at SIFF, and then was distributed by Phase 4 Films. In 2011 Eric both produced and edited A Lot Like You, which premiered at SIFF, screened at festivals around the world winning 6 best Doc awards. Eric also edited The Heart of the Game (2005) which premiered at TIFF, was distributed by Miramax, and heralded as "...an Oscar level piece of work" by film critic Richard Roeper.
Eric's latest film, Deep Burial, starring Dominic Monaghan, Tom Sizemore, and Sarah Habel is due for completion in early 2014
He is currently working on two Seattle documentaries: Song of the New Earth, and The Breach.
Country:
USA
Year:
2014
Running Time:
90 minutes (approx.)