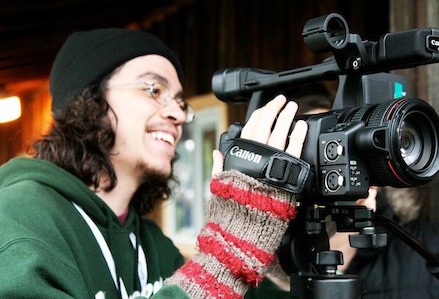 SuperFly
In Longhouse Media's SuperFly Filmmaking Experience workshop, presented by SIFF Education, filmmakers and actors aged 13 to 19 showcase their skills, collaborate with other artists, and premiere original work at Seattle International Film Festival. Now in our 9th year!
Fly Filmmaking challenges local, independent filmmakers by condensing the filmmaking process into a tight production schedule with limitations imposed on time, funds, and other resources. Completed projects debut at the annual Seattle International Film Festival.
An extremely artistic, creative, and stimulating form of filmmaking in which filmmakers and actors are able to showcase their skills, collaborate with other artists, and premiere their work at the Festival. Based on the incredibly short duration of time allotted to the filmmakers and actors, this process can be referred to as "on the fly," hence the name: Fly Filmmaking.
Locations
Snoqualmie Tribe and on Capitol Hill, Seattle, WA
Participating students will:
Develop valuable leadership and organizing skills
Share ideas with others from around the country
Create five short collaborative films in 36 hours
Learn about Coast Salish culture
View student work from the US, Canada, South America, and Europe
Youth aged 13-19 can apply to participate in SuperFly 2014.
Want to learn more about SuperFly?
Please contact Lou Karsen or Tracy Rector or visit Longhouse Media.
Questions about SIFF Education?
Send us an email.