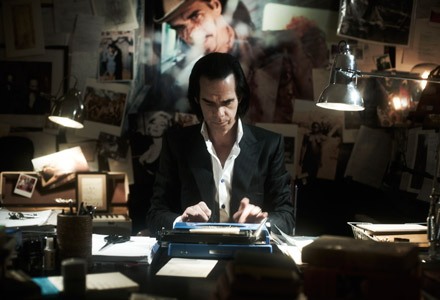 20,000 Days on Earth
United Kingdom | 2014 | 95 minutes | Iain Forsyth, Jane Pollard
An enthralling and unclassifiable immersion in the twilight world of Aussie polymath musician Nick Cave. Falling somewhere between fact and fiction, Cave visits a shrink, makes music, digs into his archives, and reminisces with friends in this deconstruction, providing a glimpse of an icon at his most exposed.
Music icon Nick Cave's distinctive baritone and darkly witty songwriting have been crafted onto a blend of moody balladry and post-punk swagger to create a style that can only be defined as "Nick Cave." Blending fact, fiction, and fantasy, 20,000 Days on Earth is a playful deconstruction of the typical music documentary. It follows a single day in the life of the artist—his twenty thousandth, as the title suggests—as he digs through archives, verbally spars with a therapist, and engages in a series of hallucinatory interviews with friends like actor Ray Winstone, pop star Kylie Minogue, and fellow band mates Blixa Bargeld and Warren Ellis. While in the midst of making his recent album "Push the Sky Away," Cave offers a glimpse into his creative mind, exploring the dark recesses of his past, the pitfalls of fame, and his sometimes-elusive sources of inspiration. Co-directors Jane Pollard and Iain Forsyth, known for their work in both film and performance art, have frequently collaborated with Cave, and their playful sensibility, mixed with the musician's enigmatic style, makes for an experience that is simultaneously insightful and vague, intimate and aloof, candid and mysterious. In other words, the encapsulation not just of a legendary performer, but also of the artistic process as a whole.
Director Biography
Visual artists Iain Forsyth & Jane Pollard met while studying Goldsmiths College in London in the mid-90s, and have worked together on short films and media projects ever since. Their work often involves recreations of highly-charged cultural moments and music collaborations, most notably their exhibition A Rock 'n' Roll Suicide (1998), and experiments with Jason Pierce of Spiritualized. 20,000 Days on Earth is their first feature film.
Sponsored by EMP Museum, KEXP 90.3 FM
Director:
Iain Forsyth, Jane Pollard
Principal Cast:
Nick Cave
Country:
United Kingdom
Year:
2014
Running Time:
95 minutes
Producer:
Dan Bowen, James Wilson
Cinematographers:
Erik Wilson
Editors:
Jonathan Amos
Music:
Nick Cave, Warren Ellis
Website:
Official Film Website
Awards:
Sundance Film Festival 2014 (Editing Award, Directing Award for World Cinema Doc)
Filmography:
Debut Feature Film
Language:
English
US Distributor:
Drafthouse Films
International Sales:
HanWay Films
Show All