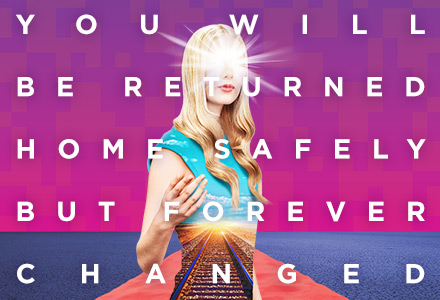 3 Minute Masterpieces
2014
How hard could it be to make a three-minute film? We challenged you to find out.
SIFF is pleased to once again partner with The Seattle Times for the eighth annual 3-Minute Masterpiece contest.
Each year we challenge filmmakers around Seattle to create short, family-friendly films that last no longer than a mere three minutes. Any subject matter may be explored as long as there is no sex, violence, or obscenities.
There are several opportunities for awards and recognition for contest participants. Filmmakers under 18 are eligible for the J. Michael Rima Award, celebrating young Seattle directors. The winner of this award will have his or her film featured during the Festival's FutureWave Shorts Program. Other winning films will be featured on The Seattle Times website as well as at the Festival. The Grand Prize winner will also receive one Full Series pass to this year's Festival.
---
The 2014 Winners:
Day of the Living Statues
By Andrew Olivarez, Brandon Schlepp and William Schlepp. Directed by William Schlepp, music by Andrew Olivarez
Statues don't move ... or do they? In this cops-and-robbers pursuit, two human statues competing for street entertainment money set their differences aside to chase down a nasty pickpocket. Filmed in one afternoon in downtown Seattle, Day of the Living Statues was conceived by Andrew Olivarez and sibling duo Brandon and William Schlepp, who have been interested in filmmaking since childhood. Olivarez and Brandon Schlepp played the leads - two human statues - and passers-by unwittingly played ... well ... passers-by. Some even tossed money at the filmmakers, thinking they were real buskers. "The gray statue actually made, like, 10 bucks or something that day," William Schlepp said.
Go Fish
Written and directed by Abby Salmon, Jessica Salmon, and Phoebe Wall
The three girls-turned-zombies in this film have been neighbors for a decade, and in that time they've created many skits, songs, stories and movies. "We make all different kinds of movies," said Phoebe Wall, 13. "I like sci-fi movies a lot, and we like adventure movies." However, this is the first time the girls have made any kind of scary or sci-fi film."[A zombie movie] seemed like the only adventure, supernatural thing that we could do that was doable," she said. "Aliens are hard to do because they end up looking like people in alien costumes but zombies are easier to do."
Araignee
Directed by Jeremy Jensen
Cross two feisty French spiders with some classic paintings and you have a story of two "araignées" in Paris vying for the title of top artiste. Filmmaker Jeremy Jensen, who made this short animation for a school project at NYU's Tisch School of the Arts, said he drew out the entire two-minute film frame-by-frame. He was inspired, in part, by the Pixar film Ratatouille. "I sort of liked the artist in Paris thing, and I loved the colors in Ratatouille - that kind of pink and purple - I liked the look of it," he said.
Teenager Wrath
Directed by John E. Williamson, starring Lillian M. Williamson, aerial photography by Patrick Moynihan
Every parent knows the difficulties that can arise living with a teenager, and John E. Williamson decided to make that experience into an apocalyptic-like film starring his teenage daughter. "It's actually a documentary," he joked. "No, she's actually a very sweet child, but every family has conflicts and sometimes ... you feel that people are tearing down the house around you." While a drone and a Go-Pro camera were used to film bird's-eye-view shots, the tools used for explosions and crashes were relatively low-tech. "I am a game designer by trade so I have done a lot of very high-end graphics, but the secret for this project was that I used a 99-cent iPhone app," he said.
Home Tastes Like Love
Created by Christopher L. Brown and Elsie Nelson Brown
A father and his young daughter teamed up for this sweet documentary on the meaning of "home." Made in the midst of a 30-inch snowfall in Holden Village (a Lutheran retreat in the North Cascades) back in February, the film collects children's perspectives on the sights, smells, tastes, etc., of home. "These kids were very impromptu about their [statements] and I loved that about it," he said. Originally made for Holden Village's Snowdance Film Festival, Christopher Brown cut it down from the original 12 minutes to a 3-minute version for the competition." In some ways, I kind of like [the short version] better," he said. "It's nice and compact and gets to the whole point much quicker."
A Heartless Gamble
Directed by Matthew Waxman and Andrew Maschmann
Inspired by classic noir films from the 1930s, "A Heartless Gamble" is the sequel to a film Matthew Waxman had made for SIFF previously during an 8-hour filmmaking contest. He brought back most of the elements from the first movie - including the setting. "I wanted ... the detective environment [mixed] with the high school environment to make it a little goofy," he said. Even though he had more time to make this film, Waxman said he did not write a script, so most of the filming was improvised. "I thought up the perfect story and some cheesy lines to say in my mind' ... and the rest is private-eye history.
The Vessel
Written and directed by Colin Dawson
Watching The Vessel feels like a dream - an unpleasant one, which is exactly what filmmaker Colin Dawson was going for. "It all kind of took place in this dream I had where this character is ripped from reality and goes down into this other reality," he said. He uses all sorts of symbols in the film - from a serpent, representing a progression of thoughts, to skeletal hands moving across the frame, representing a change in perception. Along the way, he got to experiment with cut-and-paste animation for the first time. "I got into this because I wanted to learn to use Photoshop," he said.
Angry Asian Girl vs. Bully
Producer/Director/Writer: Deborah Tahara. Director of Photography: Bry Troyer
When Deborah Tahara encountered a bully, she decided to fight back in the form of film." I witnessed a grown man kind of intimidating a young woman just because she was speaking her native language," she said. "It made me furious, and I kind of thought, I wish I could have done something, I wish I could have said something." Though it is the first time she's sat in the director's chair, she has previously worked on script-writing and corporate films. She rallied her connections in the local independent filmmaking community for actors and assistance. "I hope people will enjoy it and get a laugh out of it and it will make them think," she said.
Free Pile
Written by Bhama Roget, filmed by Liz Ellis, edited by Nathaniel Buechler, starring Nathaniel Buechler and Justin Lynn. Music: "Sereno" created by Clbustos
Don't be fooled by the protagonist's T-shirt and jeans; Free Pile was filmed in less-than-pleasant weather conditions. "We made the mistake of going out on a really, really cold morning and pretending like it was nice and hot out," filmmaker Nathaniel Buechler said. "I think that we could've gotten more takes, but we decided to cut it short because we just couldn't be outside anymore." Why not wear some warmer clothes? "The little gag at the end where the guy's carrying me away was filmed much earlier," he said. "I had to dress the same as I did when we got the first shot, and in that one it was really nice and hot out."
Sunday in the Car with Mom
Directed by D. Wiley Jones
For the comedic documentary Sunday in the Car with Mom, D. Wiley Jones placed a camera inside the front of the family car to film mom, dad and son wrangling over where to pull over to eat. "I really like writing those quirky comedies," he said. "I just like that idea of those random things popping up along the way and having to deal with them." Jones had a general outline in mind, but the dialogue and interactions were completely off-the-cuff. "I wanted something truthful and relatable, while at the same time I wanted something that was completely uncandid, where you could look at that and go, 'Wow, I remember having something that was like that,'" he said.
Drip
Directed by Kyle Jensen and Asa Buehler, written by Kyle Jensen, starring Kyle Jensen, Asa Buehler, and Stanford Kobayashi
In this epic sci-fi adventure, two boys embark on a journey to save a friend, who has been turned into ice cream, before he melts. This is the second movie for young filmmaker Kyle Jensen, age 11, who said the filming process didn't go entirely as planned. Once, when he was practicing running up some stairs for a scene, his father said the line, "What took you so long?" A woman nearby overheard, "and she got mad at my dad for being a so-called 'jerk,' " he said. Undeterred, Jensen said he would like to continue making movies. "I'm young; I don't know a lot about filmmaking, but I hope to be really good some day," he said.
Phantom Friday
Directed and filmed by Zach McIntosh, starring Joel Wiebe, music by Keith Kenniff of Unseen
Zach McIntosh and Eric Harrison didn't set out to win the 3-Minute Masterpiece contest. They shot Phantom Friday - footage of a biker in a forested area of Duthie Hill - purely to test out a high-speed Phantom Flex camera that they had acquired. Then Harrison submitted the film for competition. "I'm kind of amused by all of this, I hadn't realized Eric had sent this to you guys," McIntosh said. "We didn't go out there to shoot any narrative piece; we just wanted to capture some action in super slow-motion and we shot it sequentially just for the sake of a little visual story."
Sponsored by The Seattle Times