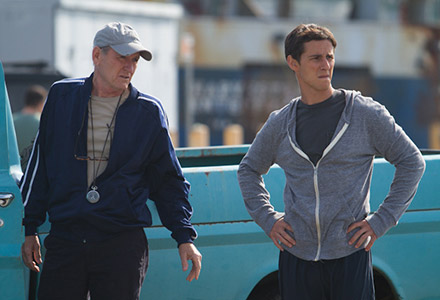 4 Minute Mile
USA | 2014 | 96 minutes | Charles-Olivier Michaud
Idealistic yet troubled, teen track runner Drew is constantly coming in second--on the tracks as well as at home. When his reclusive old neighbor (Richard Jenkins, The Visitor) offers to train him using tricks from his old coaching days, they form an unexpected bond.
A sensitively observed drama unfolds when a Seattle high school student trying to run from his problems meets an old man who's locked himself away to hide from his own, and find that they're just the solution the other needs. Drew (Kelly Blatz) is about to graduate from school, but the dire economic straits of his broken family have set a fence around his horizons. Drew seems destined to remain stuck in his rough neighborhood, following his older brother's downward spiral into drugs and violence. But he does have one advantage on his side: a runner's body, however untrained and in need of discipline. His efforts at track and field glory catch the eye of neighbor Coleman (Richard Jenkins), a former coach who's bitter over past regrets. Admiration for Drew's potential softens Coleman's hardened reserve, and he offers the young man guidance on achieving his dreams on and off the track. Deftly pairing up-and-comer Blatz with veteran actors Jenkins and Kim Basinger in the role of Drew's mother, 4 Minute Mile offers an inspirational message to appeal to all audiences, even as its shot-in-Seattle locations offer a particular attraction for homegrown crowds.
Director Biography
Québécois filmmaker Charles-Olivier Michaud's Snow & Ashes found success at the 2010 Slamdance Film Festival, winning Grand Jury Prize for Best Narrative Feature. 4 Minute Mile is his English-language debut, filmed in Seattle.
Sponsored by 4Culture, Seattle Office of Arts & Culture, Washington State Arts Commission, National Endowment for the Arts, Black Rapid Media, CityArts
Director:
Charles-Olivier Michaud
Principal Cast:
Kelly Blatz, Richard Jenkins, Kim Basinger, Cam Gigandet, Analeigh Tipton
Premier Status:
World Premiere
Country:
USA
Year:
2014
Running Time:
96 minutes
Producer:
Deborah Moore, Howard Burd, Mark DiSalle, Jennifer Reibman, Micah Sparks
Screenplay:
Josh Campbell, Jeff Van Wie
Cinematographers:
Jean-François Lord
Editors:
Elisabeth Olga Tremblay, Dirk Westervelt
Music:
Stephen Barton
Filmography:
Exil (2013); On the Beat (2011); Snow & Ashes (2010)
Language:
English
Format:
DCP
US Distributor:
Gravitas Ventures
Show All