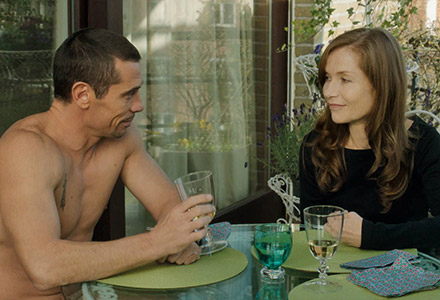 Abuse of Weakness
Abus de Faiblesse
France | 2013 | 104 minutes | Catherine Breillat
Based on actual events that befell filmmaker Catherine Breillat (the provocateur behind Romance and Fat Girl), Isabelle Huppert stars as a director, partially paralyzed from a serious stroke, who falls for an arrogant, conniving, money-hungry con man.
Maud (Isabelle Huppert), a celebrated film director wounded by a paralyzing stroke, is looking to prove that she can live beyond her disability. With her next film in pre-production, she finds a potential lead in charismatic Vilko (French rapper Kool Shen) while watching a TV talk show. What begins as a simple meeting between the director and the charming man turns into something far more conniving as Vilko, with money on his mind, makes himself indispensible to the ailing auteur and begins bleeding her savings dry. The same story happened to director Catherine Breillat—half-ruined by Christophe Rocancourt—a few years ago, leading to an autobiographical book and now this cinematic account. Over the course of her career, Breillat's films have demonstrated an uncanny knowledge of reciprocity in domination-based relationships as well as the confusion they create. In Abuse of Weakness, the victim does not become the persecutor, leaving us to consider why Vilko stays with Maud once the well has seemingly run dry. It is almost a kind of elective affinity, from which nothing good can come out. No resistance is possible. This is the truly tragic scope of the film. With a powerful directorial focus, especially concerning the bruised body, Breillat brings out Maud's human vulnerability in touching and frightening ways.
Director Biography
Catherine Breillat is a Paris-based filmmaker, writer, and professor at the European Graduate School. She began her career in cinema as an actress and by 1975 had transitioned to filmmaking, adapting her own novel, A Real Young Girl (1976). In 2007, shortly after a stroke, Breillat directed The Last Mistress. Abuse of Weakness is Breillat's most recent film, depicting the real life events surrounding her stroke.
Sponsored by TV5MONDE, Alliance Française de Seattle, French American Cultural Society, French Immersion School of Washington, The French American School of Puget Sound
Director:
Catherine Breillat
Principal Cast:
Isabelle Huppert, Kool Shen, Christophe Sermet, Laurence Ursino, Ronald Leclercq
Country:
France, Germany, Belgium
Year:
2013
Running Time:
104 minutes
Producer:
Jean-François Lepetit, Nicolas Steil
Screenplay:
Catherine Breillat
Cinematographers:
Alain Marcoen
Editors:
Pascal Chavance
Music:
Didier Lockwood
Website:
Official Film Website
Filmography:
The Sleeping Beauty (2010); Bluebeard (2009); The Last Mistress (2007); Anatomy of Hell (2004); Sex is Comedy (2002); Brief Crossing (2001); Fat Girl (2001); Romance X (1999); Perfect Love! (1996); Aux Niçois qui Mal Y Pensent (1995); Dirty Like an Angel (1991); 36 Fillette (1986); Nocturnal Uproar (1979); A Real Young Girl (1976)
Language:
French
HasSubTitles:
Yes
Format:
DCP
US Distributor:
Strand Releasing
International Sales:
Rezo Films
Show All