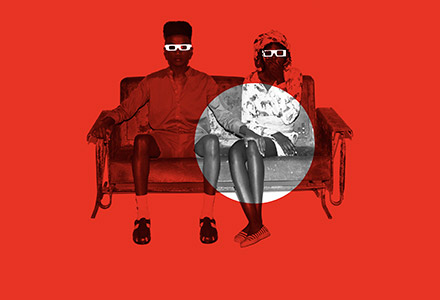 African Metropolis
Kenya | 2013 | 92 minutes | Marie Ka, Philippe Lacôte, Ahmed Ghoneimy, Vincent Moloi, Folsakin Iwajomo, Jim Chuchu
Filmmakers from across the African continent paint a vivid picture of a new, urbanised Africa through innovative short stories featuring six fast-growing major cities: Abidjan, Cairo, Dakar, Johannesburg, Lagos, and Nairobi.
Tuesday June 3 screening on STANDBY – Advance tickets not available
To much of the world, the African continent remains a mystery, shrouded in stereotypes to the Western world. Concentrating on the blossoming modern Africa, African Metropolis spotlights six bustling cities through the eyes of six emerging filmmakers. In Nairobi, fantasy, science fiction, and infatuation fuse as an obsessed neighbor invents strange scenarios for wooing the girl of his dreams. In Cairo, angry young musician Adham discovers that the city is an arena in which the strong survive and the weak are left by the wayside. In Lagos, a mysterious nightly ritual occurs in which ten men, put into a line-up, are mysteriously whittled down to seven and given considerable cash, but at what price? In Dakar, a housewife in her fifties discovers her true self when she must accept her husband's second wife into her home. In Abidjan, artist Jean-Michel Basquiat comes face-to-face with demons, ghosts, doubt-and his own death. And in Johannesburg, though his neighborhood and friends are long gone, an old man has one last link to the here and now-a weekly visit from a beautiful stranger. Through this series of shorts that leap across genres and countries, the social transformations, economic struggles, desires, and dynamism of Africa's urban centers take center stage.
Sponsored by The Academy of Motion Picture Arts & Sciences, Delta Air Lines
Director:
Marie Ka, Philippe Lacôte, Ahmed Ghoneimy, Vincent Moloi, Folsakin Iwajomo, Jim Chuchu
Country:
Kenya, Egypt, Nigeria, Senegal, South Africa, Ivory Coast
Year:
2013
Running Time:
92 minutes
Producer:
Rebecca Chandler, Wanuri Kahiu, Idil Ibrahim, Tamer El Said, Victor Okhai, Marie Ka, Claire Gadéa, Makgano Mamabolo
Screenplay:
Jim Chuchu, Ahmed Ghoneimy, Kemi Adesoye, Marie Ka, Philippe Lacôte, Lodi Matsetela, Makgano Mamabolo
Website:
Official Film Website
Language:
Arabic, French, English, Kiswahili, Nouchi, Pidgin English, Swahili, Yoruba
HasSubTitles:
Yes
Format:
HDCAM
Show All