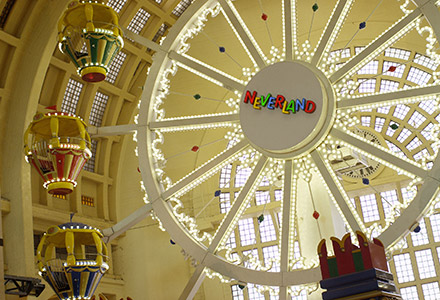 The Airstrip - Decampment of Modernism, Part III
The Airstrip - Aufbruch der Moderne, Teil III
Germany | 2014 | 108 minutes | Heinz Emigholz
The director of Loos Ornamental (SIFF 2008) returns with another look at modernist architecture, this time traveling from Europe through South America to the island where the US launched the atomic attack on Japan.
Director Heinz Emigholz knows you can learn more about architecture from actually looking at it than from having a narrator tell you what you are seeing. In Loos Ornamental (SIFF 2008) he showed surviving buildings designed by Adolf Loos in a series of well thought-out shots, without extraneous commentary, and the result plays like a fascinating lecture. In his latest film, Emigholz takes a similar aesthetic approach, but instead of tracing the work of a single architect he takes a pilgrimage to look at modernist architecture around the world, from Europe to South America to the Mariana Islands. Both instructive and abstract, he shows us shopping centers and churches, airports and warehouses, all with minimal narration. It should also be noted that Emigholz has a sense of humor, particularly when his narration decries the use of music in documentaries before creating a mini-music video in the Montevideo Airport. Once the film arrives in the Mariana Islands, we see the airstrip evoked by the title where US forces launched the atomic attack on Japan that led to the end of WWII. This creates context for the entire film, a view of architecture in the face of complete destruction.
Director Biography
Heinz Emigholz (1948, Germany) was trained as a draftsman before studying philosophy and literature in Hamburg. He works as a filmmaker, actor, artist, writer, and producer in Germany and the United States. In 1978, he founded his own production company, Pym Films. By now, Emigholz has a large œuvre of art and often architectural films, although frequently the boundary between these two expressions is vague. He also teaches experimental film in Berlin and Switzerland.
Sponsored by Goethe-Institut
Director:
Heinz Emigholz
Premier Status:
North American Premiere
Country:
Germany
Year:
2014
Running Time:
108 minutes
Producer:
Frieder Schlaich, Irene von Alberti
Screenplay:
Heinz Emigholz
Cinematographers:
Heinz Emigholz
Editors:
Heinz Emigholz, Till Beckmann
Music:
Kreidler
Website:
Official Film Website
Filmography:
Perret in Frankreich und Algerien (Doc, 2012); Parabeton - Pier Luigi Nervi and Roman Concrete (2012); Sense of Architecture (Doc, 2009); Loos Ornamental (Doc, 2008); Schindler's Houses (Doc, 2007); D'annunzios Höhle (Doc, 2005); Goff in der Wüste (Doc, 2003); Photographie und Jenseits (2001); The Holy Bunch (1991); The Meadow of Things (Doc, 1988); The Basis of Make-Up (1984); Ordinary Sentence (1981)
Language:
English
Format:
DCP
International Sales:
Filmgalerie 451
Show All