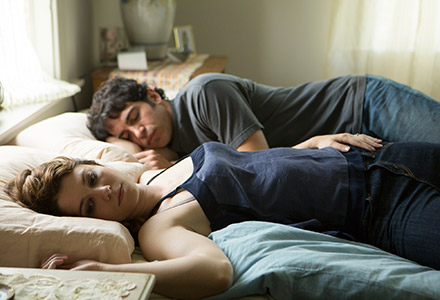 Alex of Venice
USA | 2014 | 86 minutes | Chris Messina
Chris Messina ("The Newsroom," "The Mindy Project") directs this quietly touching film about Alex, a woman who must reclaim and revive her life when her husband suddenly leaves her. Alex must navigate through all the chaos to find her true self.
Schedule
June 6, 2014
xHarvard Exit  
7:00 PM
Date has passed

Director Chris Messina scheduled to attend

June 7, 2014
xHarvard Exit  
1:30 PM
Date has passed

Director Chris Messina scheduled to attend

Show All
Actor Chris Messina (TV's "Newsroom," "The Mindy Project") makes his directorial debut with this funny and complex character study. Alex (Mary Elisabeth Winstead, Smashed) is a workaholic attorney trying to juggle a marriage, a young son, and a relationship with her dependent father (Don Johnson). But as her professional life continues to escalate with stressful cases, her husband (Messina) decides to leave her. Forced to take on the role of both parents, Alex finds her work cut out for her, while reinventing the life she took for granted and slowly solidifying her relationships with her son and aging father. It's difficult to believe this is Messina's first effort behind the camera given his assurance and focus on the film's story and character. He's created a character colored by flaws but enriched with empathy, fully brought to life by an impassioned and resonant performance from Winstead. Adding an extra amount of truth and humanity to the film is a scene-stealing turn from Johnson as the struggling actor father of Alex, denying himself her needed support. A realistic but heartfelt look at family and change, Alex of Venice is a remarkable and revelatory directorial debut.
Director Biography
Chris Messina, born in Northport, New York, began his acting career in the theater. As an award-winning actor, Messina has appeared in numerous movies and television shows including recurring and regular roles in "The Newsroom" and "The Mindy Project." Alex of Venice is Messina's directorial debut.
Sponsored by Ingeniux, Renaissance Seattle Hotel, Click 98.9 KWJZ
Director:
Chris Messina
Principal Cast:
Mary Elizabeth Winstead, Chris Messina, Don Johnson, Katie Nehra, Derek Luke
Country:
USA
Year:
2014
Running Time:
86 minutes
Producer:
Jamie Patricof, Lynette Howell
Screenplay:
Jessica Goldberg, Katie Nehra, Justin Shilton
Cinematographers:
Doug Emmett
Editors:
Amy McGrath
Music:
David Wingo
Website:
Official Film Website
Filmography:
Debut Feature Film
Language:
English
Format:
DCP
International Sales:
Preferred Content
Show All