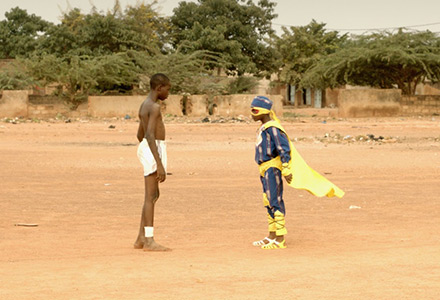 Amazing Journeys
2014 | 91 minutes
All aboard this tour of amazing people and places, from the pioneering women at the dawn of computers to a young Burkinabe boy who wants to be a superhero, these short will take you places that have to be seen to be believed.
Sponsored by The Mac Store, Classical KING FM 98.1
Packaged Films
Fabulous split screen portrait of everyday events and the mathematics behind it.
Maribel and Carmencita, two indigenous girls who work in Cuzco Central Square taking pictures with the tourists in exchange for tips, frame this stirring tale.
Through the endless winters, every year, her love takes new shapes and forms.
This is the inspiring story of how six gifted young women programmed the first all-electronic, digital computer, the ENIAC, as part of a secret WWII project.
Eight-year-old Manu loves comics and dreams of becoming a superhero, to be a driving force for change just like President Thomas Sankara.
Coping with unexpected changes in his life, Mark meets Sara who opens his eyes to a new perspective of the world around him.
Year:
2014
Running Time:
91 minutes