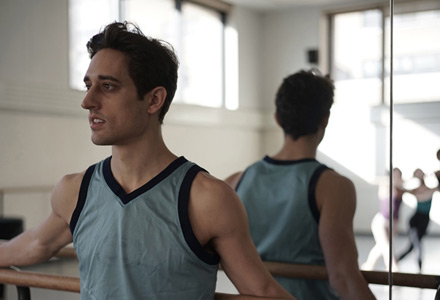 Ballet 422
USA | 2014 | 72 minutes | Jody Lee Lipes
Dancer for The New York City Ballet, Justin Peck, is asked to create the company's 422nd original piece, a massive task and an intricate journey shown in all of its creative stages. Documenting the world behind the curtain, Ballet 422 is a captivating film about this arduous and originative process.
Monday June 2 screening on STANDBY – Advance tickets not available
Explore the world behind the curtain with Ballet 422, a documentary that follows the creation of a new ballet from early rehearsals to the world premiere. An up-and-coming choreographer and corps de ballet member with the world-renowned New York City Ballet (or NYCB), Justin Peck is tasked with creating the company's 422nd original piece, the highly anticipated production of "Paz de la Jolla." Joining him in this arduous creative process are costume designers, seamstresses, musicians, technical crew and, of course, the other dancers. This vérité portrait takes audiences beneath the glamor of the performance onstage, providing unprecedented access to the elite world of the NYCB without sentiment and often without commentary. With its largely silent observation of Peck and his team, the film highlights the labor required to bring the beauty of ballet to life. Ballet enthusiasts, as well as lovers of art in general, will deepen their respect of the work behind the scenes as they witness the endurance, exasperation, occasional laughter, and genuine artistry of these creative talents.
Director Biography
Director Jody Lee Lipes' credits include HBO's "Girls" (Primetime Emmy nominee and Golden Globe winner for Best Comedy Series 2012) and Opus Jazz, a scripted adaptation of a Jerome Robbins' ballet that won an Audience Award at the 2010 SXSW Film Festival. He has also been nominated for an Independent Spirit Award for his work as a director of photography.
Sponsored by Chateau Ste. Michelle Wine Estates, KUOW 94.9
Packaged Films
In an imaginary musical world, a young woman seeks escape, loses herself and tests her own limits.
Director:
Jody Lee Lipes
Country:
USA
Year:
2014
Running Time:
72 minutes
Producer:
Anna Rose Holmer, Ellen Bar
Cinematographers:
Nick Bengten, Jody Lee Lipes
Editors:
Saela Davis
Website:
Official Film Website
Filmography:
NY Export: Opus Jazz (2010); Brock Enright: Good Times Will Never Be The Same (Doc, 2009)
Language:
English
Format:
DCP
International Sales:
The Film Sales Company
Show All