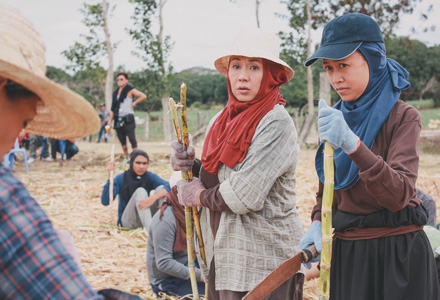 The Bit Player
Ekstra
Philippines | 2013 | 111 minutes | Jeffrey Jeturian
Loida is an aging actress whose specialty is playing bit parts in Filipino soap operas. We follow a day in her life, and are shown the questionable, exploitative, and uncomfortably hilarious ways of the soap opera production.
It's not easy being an extra. While vital to the authenticity to a filmed project—be it a movie, TV show, or music video—extras, or bit players, are regularly relegated to the sidelines, where they are subjugated, mistreated, underfed, and disrespected, working long hours without any promises of fame, fortune, or respectable paychecks. Such is the life of middle-aged single mother Loida (Vilma Santos), who has yet to catch her big break. Waking up at the crack of dawn, she and a dozen other extras pack themselves like sardines into a van and head out to a remote location shoot for the nightly TV soap opera "Nauna kang nagging Akin" (or "You Were Mine First"). Upon their arrival, they find the set in complete disarray, a frenzied circus of diva behavior, rain delays, and prop mishaps. Over the course of one very long shooting day, the behind-the-scenes chaos become as dramatic, if not more, than the soap opera unfolding before the cameras, but Loida, ever committed to her craft, discovers what could be a glimmer of hope in the form of a small, available speaking role. Santos, who ironically is a cinema megastar in her home country, gives one of the best performances of the Festival, imbuing Loida with a dogged tenacity lying just beneath the surface of her kind but world-weary visage. The film itself strikes a wonderful balance between a screwball showbiz comedy and a compassionate socio-realist drama about the exploitation of labor, equally harsh and hilarious.
Director Biography
Jeffrey Jeturian graduated from the University of the Philippines and went on to work in the film industry as a script supervisor and production designer before eventually trying his hand at directing. His multiple television series and various film projects have been both critically and commercially acclaimed.
Sponsored by Delta Air Lines, Southeast Asia Center UW, Muckleshoot Tribe
Director:
Jeffrey Jeturian
Principal Cast:
Vilma Santos, Vincent de Jesus, Marlon Rivera, Ruby Ruiz, Tart Carlos
Country:
Philippines
Year:
2013
Running Time:
111 minutes
Producer:
Josabeth Alonso, Ferdinand Lapuz, John Victor Tence, Jeffrey Jeturian, Vilma Santos
Screenplay:
Zig Dulay, Antoinette Jadaone, Jeffrey Jeturian
Cinematographers:
Lee Briones
Editors:
Glenn Ituriaga, Zig Dulay
Music:
Vincent de Jesus
Awards:
Cinemalaya Independent Film Festival 2013 (Audience Award, Best Screenplay, Actress, Supporting Actress)
Filmography:
Trespassers (2011); The Bet Collector (2006); Bikini Open (2005); Minsan pa (2004); Bridal Shower (2004); Larger Than Life (2001); Fetch a Pail of Water (1999); Enter Love (1998)
Language:
Tagalog
HasSubTitles:
Yes
Format:
DCP
International Sales:
Ignatius Films Canada
Show All