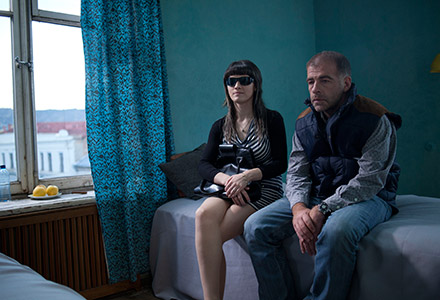 Blind Dates
Brma Paemnebi
Georgia | 2013 | 95 minutes | Levan Koguashvili
A 40-year-old teacher still living with his parents finally meets the right woman in this lovely, compassionate comedy from Georgia. Unfortunately, not only is she the mother of one of his students, she has a husband about to be released on probation.
Boasting a strong vision, an ironic sense of humor and brilliant minimalistic acting, this lovely, compassionate, melancholy comedy portrays the warmth and delicacy of human relationships in contemporary Georgia. Sandro is a 40-year-old Tbilisi teacher who still lives with his parents. His mother constantly bugs him to grow up and get married, but Sandro has little luck with the women he and his single friend Iva contact through dating sites. After yet another unsuccessful match-up, Sandro meets hairdresser Manana, the mother of one of his students, and falls in love with her. However, the seemingly single Manana turns out to be married—and her hot-tempered husband, Tengo, is about to be released on probation. As Sandro and Iva kill time by the sea, their backdrops are artfully staged yet familiar and realistic. Winner of the Special Jury Prize at the Abu Dhabi Film Festival, Blind Dates is a slice of life everyone can relate to: the simple search for connection and meaning.
Director Biography
Born in 1973 in Georgia, Levan Koguashvili studied film at the Russian State Institute of Film (VGIK) and the New York University Graduate Film Program. He made several short films and documentaries while he was living in New York between 2002 and 2007. He made his feature debut with Street Days in 2010, for which he moved back to Georgia. The film won the feature script competition organized by the Georgian National Film Center.
Sponsored by KING5
Director:
Levan Koguashvili
Principal Cast:
Andro Sakhvarelidze, Ia Sukhitashvili, Archil Kikodze, Vakhtang Chachanidze, Kakhi Kavsadze
Country:
Georgia
Year:
2013
Running Time:
95 minutes
Producer:
Levan Koguashvili, Suliko Tsulukidze, Olena Yershova
Screenplay:
Boris Frumin, Levan Koguashvili in collaboration with Andro Sakvarelidze
Cinematographers:
Tato Kotetishvili
Editors:
Nodar Nozadze
Music:
Iakob Bobokhidze, Otar Tevdoradze
Website:
Official Film Website
Awards:
Abu Dhabi Film Festival 2013 (Special Jury Award), Karlory Vary 2013 (Most Promising Project)
Filmography:
Street Days (2010) ; Women from Georgia (Doc, 2009)
Language:
Georgian
HasSubTitles:
Yes
Format:
DCP
International Sales:
Films Boutique
Show All