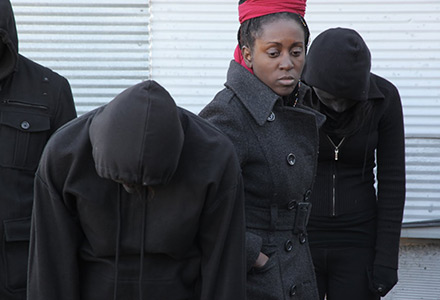 Bound: Africans versus African Americans
2014 Lena Sharpe Award for Persistence of Vision
2014 Lena Sharpe Award for Persistence of Vision
USA | 2014 | 90 minutes | Peres Owino
Controversial and illuminating, this documentary from Kenyan-born Peres Owino uses testimonials to expose the seldom-discussed ways that Africans and African Americans view each other, and looks at the cultures' shared history to foster mutual understanding. With director Peres Oswino and producers Tene Carter and Isaiah Washington in attendance!
Schedule
June 7, 2014
SIFF Cinema Uptown Festival  
5:30 PM
Date has passed

Director Peres Owino, producers Tene Carter, Isaiah Washington scheduled to attend

June 8, 2014
SIFF Cinema Uptown Festival  
2:30 PM
Date has passed

Director Peres Owino, producers Tene Carter, Isaiah Washington scheduled to attend

Show All
Saturday June 7 and Sunday June 8 screenings on STANDBY – Advance tickets not available
Bound: African versus African Americans is a hard-hitting documentary that addresses the little-known tension that exists between Africans and African Americans. The film opens with a collage of personal testimonials that expose the rift as more than just childish name-calling with deeper wounds that span hundreds of years. Through exploring the historical experiences of both African Americans and Africans, the filmmakers provide perspectives that take the events of history and brings to the fore the direct and indirect effects of slavery and colonization on populations that last for generations with no easy solution. Ultimately, Bound smartly focuses on the things that make Africans and African Americans similar as opposed to dwelling on what divides them, culminating with ideas that promote reconciliation without assuming that it is a simple fix. Kenyan-born director Peres Owino has created an engaging, substantive, and compassionate film that will be a discussion starter and a catalyst for change across the African diaspora. But the film's exemplary investigation of cultural relations succeeds in reflecting on all societies the importance of examining the ethnic, political, and geographical prejudices within us all.
Director Biography
Peres Owino is a Kenyan-born actress, writer, and dancer. Her latest projects include a lead role in Simon Brand's feature film Default, a co-starring role in the FX TV show "Terriers," and directing her original play, "Cut," at the Walt Disney Concert Hall, an official selection of the REDCAT Fall Studio. Peres is also producing her new play "Stained Sheets," a follow-up to her successful one-woman play "Beauty for Ashes."
Sponsored by The Academy of Motion Picture Arts & Sciences, Delta Air Lines, African Studies Program in the Jackson School of International Studies, Langston Hughes Performing Arts Institute
Director:
Peres Owino
Premier Status:
World Premiere
Country:
USA
Year:
2014
Running Time:
90 minutes
Producer:
Peres Owino, Isaiah Washington
Screenplay:
Peres Owino
Cinematographers:
Iyabo Kwayana, Nicole Kruex
Editors:
Barry Kolsky, Nicole Kruex
Music:
Benjamin Ochieng, Michael Schneider, Amani Starnes
Filmography:
Debut Feature Film
Language:
English
Format:
DCP
Show All