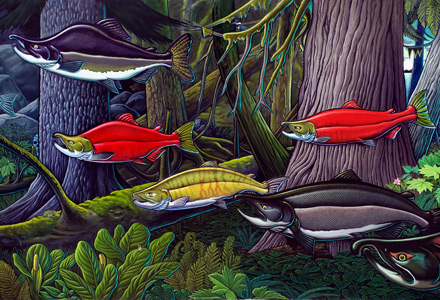 The Breach
Work in Progress
USA | 2014 | 85 minutes | Mark Titus
The film centers on the fragile ecosystem of wild salmon, including a chronicle of Washington's Elwha River dam removal as well as a comprehensive look at Alaska's Pebble Mine mineral exploration project, which could arguably destroy one of the world's last unspoiled salmon runs.
Wednesday June 4 screening on STANDBY – Advance tickets not available
A riveting story of the journey of wild salmon and their precarious situation in the ecosystem of the American river system–specifically here in the Pacific Northwest. Wild salmon are icons in the Pacific Northwest and Alaska, as well as a vital food source for the planet. One can find images of salmon everywhere—in airports, stadiums—even over I-90. We are uniquely connected to these ancient animals, yet the centuries-old system of dams, fish farms, the resource-extraction booms, and subsequent environmental busts of the last 150 years have nearly extinguished the once-teeming wild salmon runs throughout the Pacific Northwest and Alaska. Filmmaker Mark Titus, himself an avid fisherman and fishing guide, delves deep into the lore and reality of the wild salmon in the Northwest, with in-depth interviews featuring Russ Busch, campaigner for the removal of the Elwha Dam, and renowned fish artist and activist Ray Troll. With the Elwha Dam recently removed, an ancient salmon run is being restored, but is it enough? Covering more than dam removal, Titus' insightful film looks deep into the British Columbia regulations of fish farms and the the current legislative action around the Pebble Mine in Bristol Bay, Alaska. With spectacular footage of salmon—from baby fry to spawning—Titus takes us on the powerful journey of the patron fish of the Northwest. The Breach is a Work in Progress.
Director Biography
Seattle-based Mark Titus studied acting and directing at the University of Oregon and Vancouver Film School, as well as having worked as an Alaskan fishing guide. His passion for filmmaking is equaled only by his passion for nature, which is reflected in all of his projects. Mark Titus spent his twenties as an Alaskan fishing guide, falling head over heels for wild salmon and wild places. He also began working on the craft of screenwriting, finishing several screenplays while living in the wilderness. In 2004, Mark Titus' script, Tsonoqua (The Wild Woman) won the Washington State Screenplay Competition. As a filmmaker, the shorts he's produced have screened at over 25 film festivals worldwide.
Sponsored by 4Culture, Seattle Office of Arts & Culture, Washington State Arts Commission, National Endowment for the Arts, Black Rapid Media, CityArts
Packaged Films
An intimate and charming portrait of fishermen in Bristol Bay and the commercial salmon industry.
Director:
Mark Titus
Principal Cast:
Narrated by: Kate O'Toole
Premier Status:
Work in Progress screening
Country:
USA
Year:
2014
Running Time:
85 minutes
Producer:
Susan LaSalle, Mark Titus
Screenplay:
Mark Titus
Cinematographers:
Andres Garreton
Editors:
Eric Frith, Ryan Horner
Music:
David Parfit
Website:
Official Film Website
Filmography:
Debut Feature Film
Language:
English
Format:
HDCAM
Show All