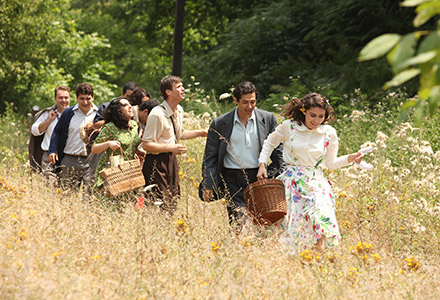 The Butterfly's Dream
Kelebegin ruyasi
Turkey | 2013 | 123 minutes | Yilmaz Erdogan
In 1940s Turkey, on the coast of the Black Sea, two friends, and aspiring poets, fall in love with the same young woman and struggle to survive as the country is buffeted by the winds of WWII.
Turkey's official submission for the 2014 Academy Awards®, The Butterfly's Dream tells a true story of refusing to let circumstances tamp down artistic and romantic passions. In the 1940s, Rüştü Onur (Mert Firat) and Muzaffer Uslu (Kivanç Tatlituğ) long to be poets, despite their mining town of Zonguldak being so culturally isolated that ice cream remains a costly import from Istanbul, and so poor even the paper they write on must be cadged from friendly sources. Each also suffers from tuberculosis, a second, tragic bond marking them as outcasts. When both men fall in love with Suzan (Belçim Bilgin), they agree to woo her with separate poems—may the best writer win—but Suzan's father, fearful of contagion, orders that all contact must cease. From the smoky gloom of the mineshafts to the crisp, seaside air of an island sanatorium, the film is awash in the surprising beauty of the day-to-day that has always acted as inspiration to wordsmiths and young lovers. Writer-director Erdoğan, a poet himself, dedicates his film to the "forgotten" members of the profession, and its loving portrait ensures that Onur and Uslu, at least, will be remembered from this point on.
Director Biography
In addition to writing, directing, and starring in such celebrated films as Vozontele (2001), and Jolly Life (2009), Turkish filmmaker Yilmaz Erdogan has also had triumphs on the stage and on television, even recording a poetry album of his original writing. As an actor, Erdogan was most recently seen in Nuri Bilge Ceylan's Once Upon a Time in Anatolia (2011).
Sponsored by W Seattle Hotel
Director:
Yilmaz Erdogan
Principal Cast:
Kivanç Tatlitug, Belçim Bilgin, Mert Firat, Farah Zeynep Abdullah, Yilmaz Erdogan, Ahmet Mümtaz Taylan
Country:
Turkey
Year:
2013
Running Time:
123 minutes
Producer:
Necati Akpinar
Screenplay:
Yilmaz Erdogan
Cinematographers:
Gökhan Tiryaki
Editors:
Bora Goksingol, Cagri Turkkan
Music:
Rahman Altin
Website:
Official Film Website
Awards:
Official Oscar Submission 2013 (Foreign Language Film), World Soundtrack Awards 2013 (Public Choice Award)
Filmography:
Neseli hayat (2009); Haybeden gerçeküstü ask (2007); Magic Carpet Ride (2005); Vizontele Tuuba (2004); Vizontele (2001)
Language:
Turkish
HasSubTitles:
Yes
Format:
DCP
Show All