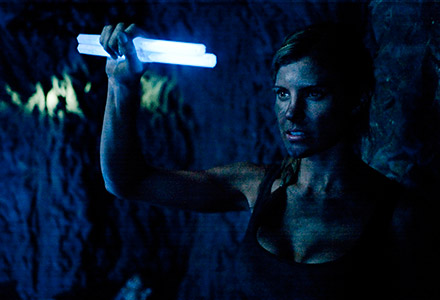 Successful Genre Filmmaking
USA | 60 minutes
Join producers Kelly Martin Wagner and Nick Phillips (Beneath) for an illuminating session focused on genre filmmaking. In addition to producing, they also have years of experience to share in development and casting of genre properties.
REVOLVER PICTURE COMPANY is a genre label founded in 2012 by veteran casting director Kelly Martin Wagner and former Dimension Films and Screen Gems executive Nick Phillips. Having worked together on several movies for Sony Pictures Entertainment, the long time friends came together in March 2012 to create Revolver. In August of 2012 they officially opened their doors. The company is dedicated to making concept driven, elevated horror films and thrillers in the under 5M range. Their first collaboration HAUNT was distributed by IFC Midnight. Another film, BENEATH will be released this year and others are in production.

HAUNT is the first film to bear the Revolver Picture Company logo. A co-production with QED International, the film stars Harrison Gilbertson (NEED FOR SPEED), Liana Liberato (TRESPASS), Ione Skye (ZODIAC) and two time Academy Award Nominee Jacki Weaver (SILVER LININGS PLAYBOOK). It was directed by first time filmmaker Mac Carter and shot in Salt Lake City, Utah in November/December of 2012. HAUNT follows the Asher family as they move into what they believe to be their dream house. The teenage son begins a relationship with the mysterious girl next door, and together they begin to dig into the house's dark past and the tragic downfall of the former occupants, the Morellos. They communicate with the dead via a cryptic device they find in the attic, which utilizes the phenomenon known as EVP, Electronic Voice Phenomena,. Unfortunately their experiments bring back a vengeful spirit, leading to tragic results.
The company's second film is the psychological thriller BENEATH. It was co-financed with Elevative Entertainment, with whom Revolver has a close relationship. It stars Jeff Fahey (LOST), Kelly Noonan (TEN YEAR), Joey Kern (CABIN FEVER) and Brent Briscoe (A SIMPLE PLAN). Inspired by true events, BENEATH tells the story of a crew of coal miners who become trapped 600 feet below ground after a disastrous collapse. As the air grows more toxic and time runs out, they slowly descend into madness and being to turn on one another. The film was directed by Ben Ketai, with whom Wagner and Phillips had worked on 30 DAYS OF NIGHT: DARK DAYS, and it was written by Patrick J Doody & Chris Valenziano.
BIOS:
Growing up in Los Angeles, KELLY MARTIN WAGNER, always had a passion for filmmaking. In 1994 she began her professional career as a voice over actress before realizing how much she enjoyed working with filmmakers, to bring to life their on page characters, through the casting process. "I have always loved the feeling of giving someone something they have worked hard for. To me giving someone the part is the best gift ever." She has established herself as a well respected casting director specializing in the thriller and horror genre. Some of her films include the highly successful "Hostel" and "Grudge" series as well as "The Exorcism of Emily Rose" and "The Devil Inside". Kelly's keen eye for spotting talent has garnered her recognition in being named one of the "Top 20 Casting Directors of 2007" by Hollywood Ross Reports.

NICK PHILLIPS has been in the film business for over 15 years, in particular the world of genre films. His career started in New York in 1996, when he began a nine year stint under Bob & Harvey Weinstein, working for Bob's Dimension Films label. While there, he was involved in such franchises as Scream, Halloween, Hellraiser, Mimic, The Crow, and Highlander. Mr. Phillips moved to the Dimension LA office in 2003, during which time he appeared on Season 3 of Project Greenlight, which aired on Bravo, helping shepherd the film Feast through production and launching a new franchise in the process.
In 2005, Mr. Phillips went to work for Sony Pictures Entertainment in Culver City. He helped create the micro budget genre division Stage 6 under Peter Schlesell. While there he worked on successful sequels to 30 Days of Night and Vacancy, among others. He soon after moved into a position at Sony Screen Gems, working under Clint Culpepper, where he oversaw a diverse slate of films including Straw Dogs, The Roommate, This Christmas and Country Strong.
Country:
USA
Running Time:
60 minutes