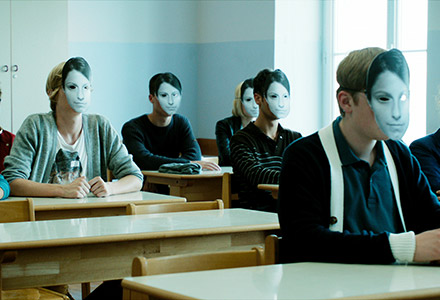 Class Enemy
Razredni Sovraznik
Slovenia | 2013 | 112 minutes | Rok Biček
In this award-winning Slovenian drama (shortlisted for the 2013 Best Foreign Language Film Oscar®), a group of teens blame their demanding new teacher and his cold, demeaning teaching methods when one of their classmates commits suicide.
The academic year is nearly over for a tightly knit bunch of high school seniors. But the atmosphere in the classroom changes when their beloved homeroom teacher, Nusa, goes on maternity leave and is replaced by German authoritarian Robert. While Nusa was keyed in to the students' lives and personalities, Robert displays no such sensitivity—he ignores the feelings of the grieving Luka, whose mother recently died, and of shy pianist Sabina, who is hypersensitive to criticism. After one too many scathing remarks toward Sabina, she hangs herself without leaving a note, sparking a student rebellion with Luka at the head of the angry mob. As a colossal battle of wills unfolds at the high school, first-time director Rok Biček demonstrates an impressive control of tension and suspense, making each encounter between class and instructor crackle with the possibility of violence in a narrative loosely based on actual events from Biček's youth.
Director Biography
Born in 1985 in Slovenia, Rok Bicek studied at the Cinema Academy of Ljubljana. He is a member of PoEtika, a cinema-devoted institution ruled by Janez Lapajne. After several short films such as Druzina (2008), Dan V Benetkah (2009), and Lov Na Race (2010), he's making his feature debut with the already multi-awarded Class Enemy.
Sponsored by Antioch University Seattle, KING5
Director:
Rok Biček
Principal Cast:
Igor Samobor, Nataša Barbara Gracner, Tjaša Železnik, Maša Derganc, Robert Prebil
Country:
Slovenia
Year:
2013
Running Time:
112 minutes
Producer:
Aiken Veronika Prosenc, Janez Lapajne
Screenplay:
Nejc Gazvoda, Rok Biček, Janez Lapajne
Cinematographers:
Fabio Stoll
Editors:
Janez Lapajne, Rok Biček
Music:
Frédéric Chopin
Website:
Official Film Website
Awards:
Official Oscar Submission 2013 (Foreign Language Film), Venice Film Festival 2013 (Fedeora Award for Best Film), Bratislava International Film Festival 2013 (Best Actor, Grand Prize, FIPRESCI Prize), Angers European Film Festival 2014 (Audience Prize)
Filmography:
Debut Feature Film
Language:
Slovene
HasSubTitles:
Yes
Format:
DCP
International Sales:
Triglav Film
Show All