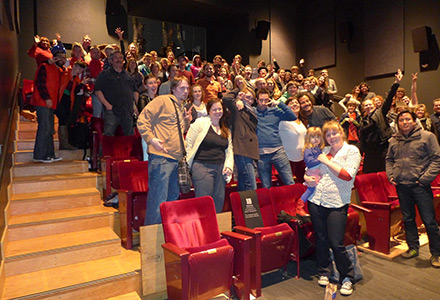 Crash Cinema @ Folklife
540 minutes
Make a film in a day with a group of filmmakers using the Folklife Festival as your backdrop. All films screen at the 6:00pm at the Film Center Theater.
Schedule
Sunday, May 25, 2014 - SIFF Film Center
9:00am | Teams assemble, Crash elements are chosen and official rules are reviewed.

9:30am - 6:00pm | Crash Filmmaking using the Folklife Campus

6:00 - 7:00pm | Crash Film Screening

Free to participate and for Folklife the screening is free!
---
Crash Rules

Films must be no longer than three-minutes and must include the five Crash elements. The five elements include a genre, a type of action, a character's name, a line of dialogue, and a prop/costume.
Team Needs
Each team must provide their own equipment including a video camera (can be a cell phone), a way to transfer footage to an editing system, computer with editing software, burnable dvd or flash drive.
---
About Crash Cinema

SIFF Crash Cinema is a movie production challenge, taking participants from concept to screening in one day. It is about having fun, making a movie and seeing it on the big screen. The script is developed on the spot by your Crash team (usually 3-6 people) and you design your story based on your team's resources. Come with your own team or find a team at SIFF. Crash Cinema is a bi-monthly and non-competitive challenge.Need more information? Send us an email.
Running Time:
540 minutes